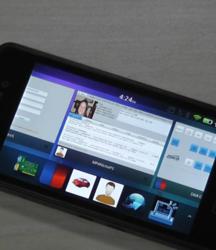 BB 10 invokes our apps as required, and runs them seamlessly. I loved the way MPA apps looked and ran on the new platform.
Toronto, Ontario (PRWEB) October 01, 2012
Mobile Innovations Chief Technology Officer and founding team member Geof Bosworth has given his thumbs up to BB10 with his recent return from Research In Motion's BlackBerry Jam Americas, 2012 in San Jose California. As the senior technical lead for his company's BlackBerry and PlayBook development teams, Bosworth was an active participant at RIM's annual showcase developer event, where the new BB10 platform was presented, demoed and explained to an attentive BlackBerry development elite from all over the world.
Bosworth joined hundreds of BlackBerry and PlayBook app makers and experts as he took part in running BB10 live on Beta BlackBerry smartphones during presentations, working sessions and seminars held over the course of the well-attended 3 day event. At the conclusion of the show he was given a BlackBerry 10 Alpha smartphone to develop and run apps with during the run-up period prior to the BB10 launch planned for the first quarter of next year.
Back at the company's development headquarters in Toronto, Bosworth ran his company's MPA apps on the BB10 Alpha device with it's new platform which features a bigger, brighter screen with fast and accurate touchscreen, scaling easy-to-read fonts, and crisp, clean graphics. "Everything we saw at BlackBerry Jam was running live on devices so you know the launch is close at hand." Said Bosworth. "I was really impressed with the way BB 10 invokes apps to run just when you need them. This adds speed and saves battery power, and with the font and UI improvements at the OS level, I love the way our MPA law enforcement apps look and run great on both BlackBerry smartphones and PlayBooks now."
A BlackBerry Alliance Partner since 2006, Mobile Innovations has been developing for BB10 Alpha since the device was released to developers at BlackBerry World last June. The company's teams have also done extensive data, GPS, communications and reports apps for PlayBook since early 2011. Mobile Innovations is widely recognized in North America and Europe for its in-vehicle work including docks, PlayBook apps, and upfits that cut the cost of in-vehicle ruggedized laptops by 80%.
The company's BlackBerry and PlayBook apps for law enforcement are being showcased at BlackBerry Booth No. 707 – in a 2013 Ford SUV Police Enforcer -- at the 119th International Association of Chiefs of Police Conference and Expo from September 29th to October 3rd at the San Diego Convention Center.
For more information, please contact:
Gary Bauer – President
Mobile: 1-416-889-9997
Email: garyb(at)mobinnoco(dot)com
Mobile Innovations is a privately held company dedicated to enhancing law enforcement with the most advanced mobile data products available. Based in Niagara Falls, Canada, Mobile Innovations also has operations in Toronto and works with over fifty agencies across Canada, the United States and in the United Kingdom. Mobile Innovations is a member of the BlackBerry® Alliance Program with six years of service developing and deploying advanced mobile solutions for BlackBerry smarphones and PlayBooks.