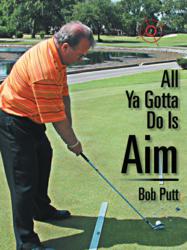 My book can help readers sharpen their aim, perfect their alignment and, ultimately, reduce their score by up to ten shots
Angleton, TX (PRWEB) October 02, 2012
Like many athletes, golfers often reach a plateau and struggle to continuously improve. This is the time when details matter most.
According to PGA Master Professional Bob Putt, a perfect game is simply a matter of having perfect aim. The professional golfer turned coach shares essential tips and tricks in his new how-to book, All Ya Gotta Do Is Aim.
"My book is one of the first of its kind," says Putt. "It can help readers sharpen their aim, perfect their alignment and, ultimately, reduce their score by up to ten shots."
In All Ya Gotta Do Is Aim, Putt reveals that achieving your best round of golf is all about keeping your eye on the prize—literally. Sounds a little strange, right? Let him explain:
"When most people shoot rifles or handguns, they close one eye to help them site in on their target," Putt says. "So, I ask, why not use the same technique when golfing? (Just be sure it's the correct eye!)"
Putt, a recipient of the Dick Forester Quarter Century Award, helps readers identify their dominant eye, then teaches ways to improve precision on the golf course.
Written and designed for novices and professionals alike, the book takes advantage of visual components, such as photos and diagrams, to illustrate what a fine-tuned round of golf actually looks like.
For more information, visit http://www.pga.com/professionals/bob-e-putt-pga.
All Ya Gotta Do Is Aim
By Bob Putt
ISBN: 978-1434378828
Approx. 85 pages
Paperback
Retail price: $27.50
E-book price: $3.99
Available at Amazon, Barnes & Noble, Author House
About the author
Bob Putt was the first PGA Master Professional in Texas, named in 1988. He has taught golf lessons alongside some of the best golfers in the world, including Chuck Cook, Dr. Richard Coop, Bruce Summerhays and Rick Acton, for more than 40 years. Putt is the recipient of the Dick Forester Quarter Century Award and has been named Professional of the Year three times in his home state of Texas, where he has lived since 1969.