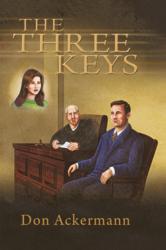 There comes a crucial moment in everyone's life when their mettle is truly tested and they discover who they really are
(PRWEB) October 02, 2012
Faced with his wife's affair and embroiled in a vicious court battle involving a multimillion dollar land dispute, surveyor Jim Schroeder knows what it will take to win--compromise his personal convictions. How far is he willing to go to save his family and his own integrity?
That's the question that weighs so heavily upon Jim in Don Ackermann's debut novel, The Three Keys.
"There comes a crucial moment in everyone's life when their mettle is truly tested and they discover who they really are," Ackermann says. "When Jim and Leslie Schroeder are caught up in a corrupt world, their honor, courage, perseverance and marriage are put to the test in this inspiring, tense, family drama."
A husband, father and retired land surveyor himself, Ackermann says he was like a father confessor, which made him privy to peoples' personal lives and helped him bring his characters to life.
"I wrote this story because I saw integrity and the sanctity of marriage deteriorating to the detriment of our society," Ackermann says. "I believe The Three Keys demonstrates that honor and morality are crucial to success and happiness in life."
For more information, visit donackermann.authorsxpress.com.
The Three Keys
By Don Ackermann
ISBN: 978145674720
Approx. 254 pages
Paperback 6x9
Retail price: $16.99
E-book price: $4.99
Available at Amazon, Barnes & Noble, AuthorHouse
About the author
Born and raised in Plainfield, New Jersey, author Don Ackermann lived in a rundown, 1880's tenement and hung around with the local street gang. As Ackermann puts it, he eventually got his head on straight and became a professional land surveyor. He rose to some prominence in his field, authoring insightful articles that appeared in a number of professional journals. This background helped him write with authority about the world of land surveying with its detective work, land disputes and court battles. As a husband and father of two children, he was also able to write with authority about another world: that of marriage and family, with all its trials and tribulations. In The Three Keys, Ackermann brings these two worlds together in a tense, moving story of love, greed, disillusionment, corruption, redemption, honor and more.