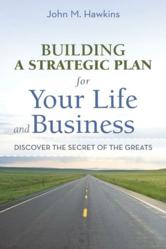 This book is about helping people turn their dreams into reality
Portland, Ore. (PRWEB) October 02, 2012
What do successful business leaders such as Warren Buffet, Oprah Winfrey and Donald Trump have that many others don't? Profound success, fame and fortune, but how did they get there? They had a vision and a strategic plan.
Fortune 500 consultant John M. Hawkins says strategic planning is a key factor that many dreamers are missing. His new book, Building a Strategic Plan for Your Life and Business, allows readers to follow in the footsteps of notorious strategic thinkers by providing insight and instruction on how to create their own strategic plan.
"This book is about helping people turn their dreams into reality," said Hawkins. "It's about helping people reinforce their vision with simple tools that can make that dream come true."
By working alongside his father as a carpenter's assistant in multi-million dollar homes, Hawkins learned at a young age that the secret to getting what you want is to build a strategic plan. In Building a Strategic Plan for Your Life and Business, Hawkins provides a detailed roadmap for success by teaching readers to:

Build a smart, strategic plan
Take risks (know when to take them and when not to take them)
Confront and conquer challenges
Maintain focus and follow your plan through to completion
Hawkins says his dad, a carpenter by trade and perfectionist at heart, ignited his passion for success. Now a dad himself, Hawkins hopes to pass along these values to his own children.
For more information, visit johnhawkins.blogspot.com.
Building a Strategic Plan for Your Life and Business
By John M. Hawkins
ISBN: 9781469746265
Approx. 214 pages
Paperback 6x9
Retail price: $28.95
E-book price: $3.99
Available at Amazon, Barnes & Noble, iUniverse
About the author
John M. Hawkins has 17 years of business/consulting experience. He has helped Fortune 500 companies, small businesses and individuals achieve their short and long term goals. Hawkins graduated with a degree in business from the University of Portland. He is also the author of Affinity: Managing Java Application Servers. Hawkins lives in Oregon.