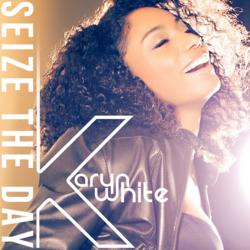 I'm so happy to be back doing what I love to do, I can't wait to get out on the road...I'm so grateful for this second chance... - Karyn White
Los Angeles, CA (PRWEB) October 02, 2012
Karyn White is back with her new CD "Carpe Diem" scheduled for release on October 22nd through her own record label Karyn White Enterprises (KWE), distributed through Lightyear/EMI. Karyn's new single entitled "Seize The Day" currently sits in the Top 40 of the Mediabase & All Access charts and is gaining ground on Urban AC radio stations across the United States.
Monday, October 22 also marks the premiere of TV One's "Life After" series featuring the R&B superstar. Check local listings for show times in your area. Karyn said, "I'm so happy to be back doing what I love to do (sing) I can't wait to get out on the road so I can personally thank all of my friends and fans who have supported me on Facebook, Twitter, my website & other social media outlets even before I hit the airwaves. I'm so grateful for this second chance and I am encouraging everyone to dream and seize the day! Carpe Diem."
For more information please visit:
http://www.KarynWhite.me
http://www.Twitter.com/Karyns_World
http://www.Facebook.com/KarynWhiteMusic
http://www.Youtube.com/user/KarynWhiteOfficial
About Karyn White Enterprises (KWE)
Established in 2011, Karyn White Enterprises (KWE) is an independent record label based in Los Angeles. After enjoying a 17 year absence from the music industry to raise her daughter, Karyn formed KWE to have a new home base to re-launch her career. Karyn strategically formed a team of experts to support her vision of building a true indie label armed with creative grass roots campaigns and a strong social media foundation. Spearheaded by music business and management mastermind Jay King, KWE is positioned to become the launching pad for original new talent. The label understands community and is dedicated to delivering good music across a variety of genres to all music fans.