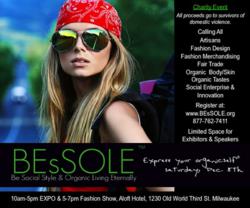 Donate a Garment and Change a Life this Holiday Season. You can make a profound difference in the world.
Milwaukee, Wisconsin (PRWEB) October 01, 2012
It is time to roll up our sleeves and say, enough is enough. Domestic Violence is on the rise and robs women and men of their dignity. The on looking children also, loose their sense of peace while insecurity sets in. Life does not have to be like this and Milwaukee can make a difference.
Saturday, December 8th BEsSOLE is giving every attendee of the Be Social Style & Organic Living Expo the opportunity to donate a garment to survivors. All the guests' will have the chance to restore dignity and providing hope, at a time of year that can be very lonely. The mission is to let survivors know they are supported and their voices are heard by all.
The donation of a garment will provide attendees free entrance into the expo. The event takes place from 10am – 7pm and will be filled with vendors who are impacting our world in a positive way with lasting change.
BEsSOLE will also host a Fashion Show from 5:30 - 6:30pm. All items will be either organic, fair trade or made by social enterprise organizations. At the end of the show a live auction will take place and all proceeds will go to enhance lives.
There are still opportunities for vendors and do good apparel companies to take action and participate in the: Clothing with Meaning Fashion Event.
The expo and fashion show will bring together small business, consumers, teachers, and students. BEsSOLE strives to positively enhance the organic lifestyle of all while promoting social innovation, fair trade, and equality of all around the world.
The Executive Director, Brenda Schubach Kiehnau, says, "Restoring dignity and love is very important for a prosperous life. BEsSOLE wants to be a force for good, providing the best to those who need it the most."
BEsSOLE is positively affecting lives. They are making a profound difference in the world.