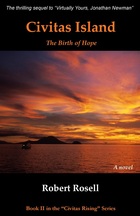 A terrifying tale Reminiscent of Huxley & Orwell, where life under an impotent and corrupt government where global cartels dominate the political and economic landscape.
Bellevue, WA (PRWEB) October 03, 2012
The gloves are off, the stakes are high, and the international business elite will stop at nothing in this thrilling sequel to Rosell's debut novel, "Virtually Yours, Jonathan Newman."
It's been two years since the Newman family abandoned the US mainland to settle on tiny Civitas Island, a peaceful sanctuary off the Pacific coast. There Jonathan, his wife Jen, and daughter Rachel, together with their young friend Marco Prima, rebuild their fractured lives.
The island population keeps a low profile, avoiding unwanted attention from Freedom First, the libertarian political party that dominates Mainland USA. All that changes, however, when Marco and other Civitas leaders launch American Renaissance, a new political movement to challenge Freedom First's iron grip over the nation.
Powerful forces encircle the close-knit community. The island enclave's self-sustaining fishing and farming industries are mysteriously beset by deadly algae blooms and toxic blight. Community leaders are hunted down by clandestine cartels mobilizing to crush any challenge to their economic and political dominance.
Rachel and Marco find themselves at the center of this conflict. The young lovers are haunted by the most harrowing ordeals as they confront their personal demons as well as the corporate powers aligned against them. It's a David versus Goliath battle with impossible odds, but no matter how dark things get, where there is love and loyalty, family and community, there is hope.
"The Newmans think they've broken free from the mainland madness, but in the modern world there is no escape," Rosell says. "When the world around you is wildly out of whack, you quickly run out of options. There's nowhere to hide. You either acquiesce to what you know is wrong, or you stand up and fight."
About the Author:
Robert Rosell, a graduate of McGill University and the University of Southern California, has worked as a theater director, teacher, writer, video director and children's media producer. He has written and directed over 50 award-winning films and videos as the president of three educational media production companies. "Civitas Island - The Birth of Hope" is the second novel in his "Civitas Rising" series.
MEDIA CONTACT:
Robert Rosell
Email: Robert@robertrosell.com
Phone: (425) 442-4467
Website: trailheadpress.com or robertrosell.com
REVIEW COPIES AND INTERVIEWS AVAILABLE
###