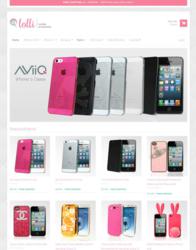 Trends come and go but cute is forever
Santa Ana, CA (PRWEB) October 02, 2012
Lollimobile.com, the premiere online retail website that retails and wholesales mobile accessories specifically for women, is proud to announce itself as Second Runner-Up in the nationwide business plan competition, launched by Palo Alto Software - developer of the number-one selling business planning software and cloud-based business planning and tracking tool, LivePlan. Lollimobile is also excited to announce the addition of cute iPhone cases and cute Galaxy S3 cases to their growing inventory selection.
Lollimobile.com competed against 200 other buiness plans and emerged a leader for a unique focus on the mobile accessory needs of style conscious female consumers. As women look to style their cell phones, the business of mobile style offers a solution in the form of fashion forward, hip and well-designed mobile accessories for smart phones and tablets. "Trends come and go but cute is forever," says Lollimobile.com founder Namanh Hoang, "We'll and have cute iPhone 5 cases today or cute iPhone 6 cases next year and it will still have the same demand."
"Lollimobile is a fun and trendy business, and we're proud to honor them as the Second Runner- Up of our Boost competition," says Palo Alto Software CEO, Sabrina Parsons. "Our judges were impressed by their product plan, and they chose an innovative target market. Their founder, Namanh Hoang, is very capable and put together a winning business plan. We're proud to help him in his journey to grow Lollimobile.com."
Lollimobile was selected as Second Runner-Up by a distinguished group of judges including Guy Kawasaki, former Chief Evangelist for Apple, co-founder of Alltop.com and author of New York Times best seller, Enchantment; Diane Fraiman, principal at Voyager Capital and former Silicon Valley technology executive; Tim Berry, founder and chairman of Palo Alto Software; John Jantsch, best-selling author of Duct Tape Marketing and The Referral Engine; and Kristen Koh-Goldstein, president and co-founder of Newco Solutions. Entries were judged on a variety of criteria including quality of content, business viability, financial projections and market potential.
As the Second Runner-Up, Lollimobile will receive in-kind prizes handpicked to help boost small businesses. In-kind prizes were provided by the following generous sponsors: LegalZoom, D&B Credibility Corp., SageWorks, Duct Tape Marketing, Shopify, MasterPlans, and PRWeb, a service of Vocus. Winners were announced via webinar on September 10, 2012.
"It was an honor to have been chosen for such a distinguished award, and being recognized by such world renowned individuals," says Hoang. Hoang further adds "A business plan is essential for any start-up because it gives you focus and we think being narrow and focus has been a key factor in our success. Focus helps you make decisions quickly and easily. By focusing on cute, inventory section is easy because the criteria for cute iPhone 5 cases or cute Galaxy S3 cases is clear and effortless which is essential when you have limited resources, time and capital."
About Lollimobile.com
Lollimobile is an online retail start-up that specializes in mobile accessories for women - from cases to cables for the newest smart mobile devices such as the Apple iPhone, Apple iPad, Samsung Galaxy S3 and soon the new Apple iPhone 5. From bling iPhone cases to adorable mobile accessories, Lollimobile.com is the ultimate resource for all things cute. Visit http://www.lollimobile.com to learn more.