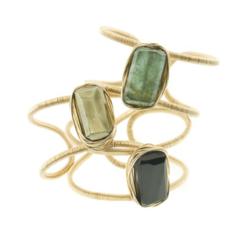 Los Angeles, CA (PRWEB) October 01, 2012
Bridging the gap between fashion and fine, Judith Bright, hand-crafted contemporary designer jewelry announced today she is slated to open her first West Coast store on the booming block of District La Brea between 1st and 2nd Street in Los Angeles. With stores in Nashville and Atlanta Judith Bright is fast becoming a favorite jewelry designer amongst women of all backgrounds. The 600 square foot space is scheduled to open early October, 2012 with a grand opening event at 177 South La Brea Avenue, Los Angeles, CA.
"I've watched the La Brea renaissance unfold over the years. I have always loved the neighborhood and the people who live and work there; it's truly a special pocket in LA," says Bright, "The merchants and restaurateurs share the common goal of making it a unique and eclectic outpost while remaining committed to its friendly community spirit."
With a distinct style and exceptional jewelry-making process of intricately wrapped wire and hand-hammered metal, Bright's new retail store aesthetic will reflect the quality and craftsmanship of her designs. Clean lines, white walls and sleek acrylic cases place the focus on her jewelry lines. Classic collections: Silver+Rocks, Gold+Rocks and RockLess will be on display in addition to her special JB Zen line featuring authentic sandalwood beads blessed by Buddhist Lama in Kathmandu, Nepal.
"I use the finest materials available and hand-pick each stone used in my designs," says Bright, adding that all of the hand-made jewelry she sells is adjustable, and custom measurements are welcome.
Judith Bright uses a myriad of semi-precious gemstones & 14K Gold-Filled & Sterling Silver metals and makes everything by hand. The jewelry is not only unique, but affordable so that women can enjoy adding to their collections often. "Each piece is designed to layer with everything else in the collection. We like to think of it as an endless jewelry wardrobe," says Bright. She adds, "Mixing and matching between the different lines is exciting as the combinations are infinite."
About Judith Bright: After a successful career heading Quincy Jones' music publishing company in Hollywood, Bright decided to focus exclusively on family and work on jewelry-making during her spare time. After taking many classes and forming a home-based business, Bright immersed herself in the creations of Italian jewelry designers and studied tenaciously under them. She and her family moved to Florence, Italy, where they lived for one year while Judith worked privately with teachers from the prestigious Le Arti Orafe School of Jewelry. After settling in Nashville, Bright opened her first location where she has developed a strong following. In her first year of business she was voted Top Handmade Jewelry, Top Jewelry Store as well as top new Retail Store in Nashville by the Nashville Scene Reader's Poll.
Judith's jewelry can also be seen in Television and Film on characters played by Meryl Streep, Jennifer Lopez, Christina Applegate, Abbie Cornish, Frances McDormand, Catherine Zeta-Jones, Sophia Bush, Blake Lively, Julia Louis-Dreyfuss and Anne Archer to name a few.
Each collection is named after a teacher, friend or someone of importance to the Italian-trained designer. From trendy jewelry to travel jewelry and more, independent jewelry designer Judith Bright has something for every person, every taste, and every budget. Judith Bright stores are located in Atlanta, Los Angeles with her Flagship store in Nashville. For more information, please visit http://www.judithbright.com
or http://www.facebook.com/JudithBrightJewelry