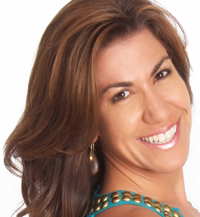 Teleseminars mean no more starving artist for you!
San Diego, CA (PRWEB) October 03, 2012
For so many people, writing a book is a labor of love – and publishing it is the ultimate goal. However, once it finally hits the stands, the author often realizes that actually earning money from book sales may be easier said than done. In a new blog post, Queen of Sales Conversion Lisa Sasevich reveals why publishing is just the beginning of an author's journey – and she provides an easy-to-implement system any author can use to boost profits.
Earning money from book sales, Sasevich reassures, is "actually easier than you think!"
"I see this all the time," she said. "You've just poured your heart and soul and even years of your life into your book, and the paperback sells for $17, the ebook even less. And if you were published by a traditional press, you only get about 10% of that price."
Her blog post, "Make a Mint From Your Book," outlines exactly how an author can begin offering teleseminar series based on his or her existing book, to earn unlimited amounts of money from it.
Read the post and learn:

Exactly how to break an existing book down into teleseries-friendly content
What to do BEFORE the teleseries to rev up interest and get people to enroll
Suggestions for how much to charge for a teleseries
Ideas for earning money off the same content for years to come – without having to do any more work
And more!
"Teleseminars mean no more starving artist for you!" Sasevich explains.
According to Sasevich, the passion and dedication that go into writing a book are often followed by the disappointment that comes from low sales. But it doesn't have to be that way…
Lisa's "Make a Mint from Your Book" blog post outlines exactly how to beef up book-sale profits, in a simple way.
To read it in its entirety, visit http://www.theinvisibleclose.com/articles/make-a-mint-from-your-book/
Recently honored as one of America's Top Women Mentoring Leaders by WoW magazine, Lisa Sasevich, "The Queen of Sales Conversion," teaches experts who are making a difference how to get their message out and enjoy massive results, without being "sales-y."
Recognized sales expert by Success Magazine, and as one of 2012's fastest growing independently owned companies by Inc. Magazine, Lisa delivers high-impact sales-closing strategies for turbo-charging entrepreneurs and small business owners to great profits. According to best-selling author Brian Tracy, "Lisa Sasevich is one of the greatest discoveries in America today!"
After 25 years of winning top sales awards and training senior executives at companies like Pfizer and Hewlett-Packard, she left corporate America and put her skills to test as an entrepreneur. And in just a few short years, Lisa created a multi-million-dollar home-based business with 2 toddlers in tow. Lisa is the undisputed expert on how to make BIG money doing what you love.