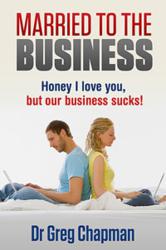 It saddens me to see conflict within couples in business as they usually have achieved so much, and the conflict is surmountable.
(PRWEB) October 03, 2012
The author of a new book says husband and wife businesses have a great advantage. They work with a degree of trust and loyalty other businesses can't buy. But loyalty alone does not make a business. And spouses can become trapped by the lack of structure, planning and profit which is symptomatic of husband-wife businesses.
Dr Greg Chapman author of Married to the Business: Honey I love you but our business sucks says he recently received an email from a coaching client. The wife was announcing her resignation from the business. While she could see the potential of the business as well as the problems; her husband was caught up in operational matters and unable to view the big picture. Her attempts to talk about the need for more structure had come across as criticism. She had reached breaking point.
Chapman says this issue is typical of husband-wife businesses. Married to the Business tells the story of Luke and Anna Taylor, fictitious owners of a construction company; an amalgam of the real life husbands and wives Chapman has coached. Chapman says Luke and Anna represent a common scenario; a tradesman who has launched out on his own, with his spouse managing the business.
Chapman says too many husband-wife businesses have no training in business basics and fail to make enough to pay each other properly and cover domestic costs; let alone the business costs. "They're running at a net loss and this puts pressure on their mortgage, family life and each other," Chapman says.
As Anna experiences in Married to the Business; the spouse who sees this most clearly starts to feel trapped by the lack of planning and profit. Chapman says sometimes this spouse will go back to full time work to escape the conflict and save the marriage. "This saddens me because the conflicts are surmountable. And they have usually achieved so much already and have so much potential."
He says there are three kinds of husband and wife business:

Husband is a tradesman but the wife actually runs the business
Professional peer couple such as architects (who may have met at university); usually one is more business focused; the other more client focused
The 'buy a business' couple; who invest in a café or franchise
Chapman says there is often the hands-on, client-focused spouse and the business-minded, big-picture spouse. "This combo can be a powerhouse at best, but causes conflict if both sides are not tended," he says.
Married to the Business works through Anna and Luke's problems by introducing regular planning and reporting; instantly removing much of the emotion and subjectivity. The book also introduces a business coach or adviser, who mediates issues and guides them through business basics. Chapman, who lectures on business at University of Melbourne, says few business owners have any training in business planning; accounting or even basic book-keeping. "A business adviser or coach brings that training and an objective eye on the numbers," he says.
The book's appendix gives Action Steps correlating to Anna and Luke's own work on the business. They cover work-family balance; business goals; family goals and even a Business Charter. Purchasers of Married to the Business receive a downloadable workbook with templates and worksheets for profit and loss; depreciation and key performance indicators.
Dr Greg Chapman continued to coach the couple who inspired Married to the Business. The wife withdrew her resignation and the good news is they are still in business – together.
Married to the Business is published by Empower Business Solutions and available in stores and online at http://www.marriedtothebusiness.biz or from Amazon or Kindle at:
http://tinyurl.com/M2BAmazon and http://tinyurl.com/M2BKindle
Dr Greg Chapman's first book The Five Pillars of Guaranteed Business Success was a finalist in the International Indie Business Book Awards. He is also a small business adviser and business speaker.
Contact Dr Chapman at http://gregchapman.biz/home/#contactus
Join the Married to the Business group on
LinkedIn http://tinyurl.com/LI-MarriedtotheBusiness
Like the Facebook page on http://facebook.com/BusinessCouples where a preview of the book can be downloaded.
Follow Dr Greg Chapman on Twitter @the5pillars