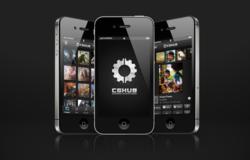 It's like we're seeing the artwork again for the first time
Los Angeles, CA (PRWEB) October 01, 2012
CGHUB.com announced the launch of their new iOS apps for iPhone and iPad today, giving entertainment artists in the feature film and video game industries worldwide the opportunity to share their work on the popular mobile platform and gain greater visibility.
CGHUB.com was founded in 2008 and has grown to become one of the leading entertainment art communities on the internet. CGHUB is home to artists who are employed at companies such as Disney, Dreamworks, Blizzard, and BioWare, and share their personal and professional work with a global community of professional and aspiring artists.
The CGHUB.com iPhone app gives users a clean & streamlined way to browse and be inspired by all of the amazing artwork on CGHUB.com, allowing you to focus on the art, follow your favorite artists, and share your work and receive feedback from users around the world.
The new apps allow users to interact with friends by giving & receiving likes, faves & comments, keep track of the newest images as they are submitted, and quickly view the most popular images of the day, week, and all time. Users can browse member's galleries, favorites, and add them to your following list. Robust filters let you find exactly the kind of images you are interested in. Fast browsing of high-res images in full screen mode look amazing on iPad & iPhone Retina displays. "It's like we're seeing the artwork again for the first time," said PR coordinator Jennifer Yu.
This is the first version of the app, and there are many new features in development, so expect several updates in the coming weeks & months.
You don't need to be an artist to join and enjoy the incredible work on CGHUB.com, fans and anyone who appreciates beautiful imagery are welcome to join and be a part of our growing community.
Available October 1, 2012, users can download the app from Apple's app store by searching for "cghub."