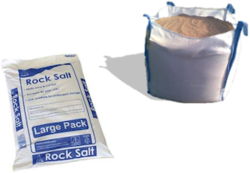 With new major supply contracts, increased stock and improved distribution, Rock Salt Shop is set for a busy winter!
(PRWEB UK) 3 October 2012
Rock Salt Shop is now one of the counties largest suppliers of de-icing salt and associated products.
Last winter was a milder and therefore quieter season for many rock salt suppliers, however, Rock Salt Shop continued to see growth in its business when many other suppliers suffered.
Director Ben Jackson said "This year the company has managed to secured more major new contracts to supply some of the UK's largest users of de-icing salt making it one of the biggest rock salt suppliers in the UK. With increased salt stocks and increased distribution depots making huge improvements to our logistical infrastructure, the company is now all set for a busy winter ahead."
The company has also spent time increasing its product range, with new bags sizes including 5kg bags, 10kg bags and our standard 25kg bags of white de-icing salt and grit salt, as well as increasing our range of salt spreaders, grit bins and snow clearance accessories.
A full range of products is now available from the companies website http://www.rocksaltshop.co.uk which has recently been redesigned and relaunched. "The new website will make buying de-icing salt easier than ever before as well as offering a huge wealth of useful information for our customers" said Helen Stokes, sales manager as Rock Salt Shop.
Rock Salt Shop supplies businesses and the public throughout the UK with de-icing salt, products can be viewed and bought online or by calling 0844 822 3959.