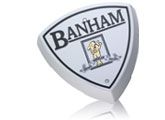 (PRWEB UK) 2 October 2012
The security company Banham Locks have recently broadened horizons by opening a newly refurbished showroom located on Kensington High Street in London. This refit of the revered company's flagship store evolves the dated shop-front aesthetic into a modern and stylish studio unit.
The showroom's expansive reach will continue to deliver venerable security based solutions to these high profile, central locations:

Hammersmith
Fulham
Hounslow
Ealing
Hillingdon
Harrow
Brent
Camden
Islington
City of Westminster
Kensington
Chelsea
Wandsworth
Lambeth and
Southwark
This extensive coverage will be offset by the 'showroom' stature of the unit, allowing patrons to browse the full range of security products available from Banham, as well as seeing a selection of those in action.
"We're really pleased with the showroom refurbishment" store manager Terry Macvoy said, adding "Allowing our customers to get first-hand experience with our products is the best way to show them they really are buying the best quality locks and alarm solutions when they come to visit us at Banham".
London's ever-bustling environment makes security a significant priority for all its residents, and Banham believe that their refurbished showroom will allow customers access to the safest and securest options for locks and alarms throughout the home, in an environment that ensures they can try before they buy.
The company is steeped in a deep family history, one that still holds true the ideals of a friendly and personal service. With this new showroom, Banham intend to continue creating a warm and approachable atmosphere, and endeavour to connect with their customers in new and exciting ways.
Banham have enjoyed 80 years of celebrated commitment to burglary prevention, and still underpin the company's values with their iconic 'Another Burglar Foiled' emblem. With this new refit, they aim to continue bringing unabridged locksmith and alarm services to their customers, as Kensington High Street joins Banham's Golders Green North London, Guildford South England, Maidenhead and Berkhamsted showrooms.
The new studio can be found at:
Central London Showroom & Locksmith Services
233/235 Kensington High Street
London
W8 6SF
Banham provide esteemed Locksmith Services, Lock Changes & Repairs, New Door Locks, Burglar & Intruder Alarms and much more across London, and have done since 1926. For more information on Banham, or their products please call 020 7819 3760, fax 020 7376 1232 or email kenhighst(at)banham(dot)com