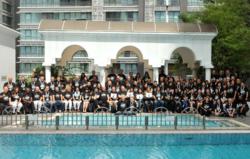 Making our Mark!
(PRWEB) October 03, 2012
On August 31, 2012, TMI International and TACK International concluded their Annual Global Event with the theme "Making our Mark" in Kuala Lumpur, Malaysia. The seven-day event drew more than 150 participants (members of the TMI International Family and TACK International Family) from more than 50 countries around the world. This hallmark Event is a major platform to leverage the diversity of the 2 brands and their people and capitalise on developments throughout the TMI International and TACK International international Network and share new insights, expertise and know-how.
The structure of the Event composed of 8 parallel 3-day BootCamps, 8 parallel Competence Development MasterClasses per day as well as an inspiring Keynote Speaker in the Morning Plenary of every Day of the Event. The culmination of the Event was the TMI International ONE STAR Awards and the TACK International ATTACK Awards that were awarded, during an extravagant Gala Dinner, to recognise this year's outstanding individual performances and winning projects.
An exciting novelty of this year's Event was the 1-Day Asia-Pacific Conference titled Achieving World Class Results through People, Service and Sales, which was organised as an integral, seamless part of the main Event but at the same time open to clients/professionals from the Asia-Pacific countries. This Conference featured prominent Keynote Speakers, Industry Experts and Thought Leaders in sales, customer service and people.
Over 300 participants had the privilege to hear from Ten World-Class Minds - acclaimed, international speakers, 5 best selling authors and leaders, coming from 7 different countries and 4 different continents.
Some of the key tangible take-aways from this high value 1-Day Conference included:

Powerful ways managers can inspire, coach, and motivate employees to deliver great customer service
Key secrets of service leadership to engage your people to deliver World Class Results
How to craft an end-to-end customer experience
Understanding today's customers and mapping the route to true customer engagement
Breakthrough selling and negotiating strategies
How, in the "New World" sales people have to look well beyond client needs to create World Class Results
How to become a high performing organisation – and the paybacks
About the New Way of Working – how to create "best place to work" workplaces
Key steps to improve customer service at all levels of an organization.
On the final day of the 7 day event, Kostas Hatzigeorgiou, Director of Global Operations, in his closing address, remarked that "The title of this year's Event was: "Making Our Mark". I'm thrilled that we actually brought it to life!
I have seen so many people "making a mark" for others during the Event.
The tangible value that this Event delivered to all participants is the highest testament of the unparallel profundity, uniqueness, depth and breadth of the TMI International KNOW-HOW and the TACK International KNOW-HOW.
At the same time, we were able to experience the outstanding power of the cutting edge know-how of our strategic allies OMG, TrueValue4U, Think! Inc and Idea Navigator.
Even more, we have deeply appreciated the value and opportunities that are made available to us, our clients and the people in our clients' organisations through the newly-established strategic cooperation with the University of East London."
Every member of the TMI International and TACK International Family is inspired, motivated and eager to bring the new know-how and competences in their countries to provide best-in class service and create world-class results and value for their clients and their people!