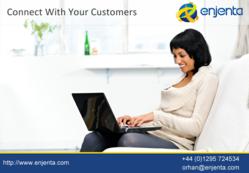 Jemini is great for a company that wants to engage with their customers through Facebook without compromising on providing the best customer service. Any company that's serious about serving their customers through Facebook should be looking at Jemini.
Oxfordshire (PRWEB UK) 1 October 2012
Enjenta, UK based provider of next generation online community systems, has today announced the launch of Jemini Release 1.6 at Call Centre and Customer Management Expo. 2012. Jemini lets a company's customers answer each other's questions online and allows measurement of how many questions are answered. It also allows customers to post solution videos and charge small amounts for the content. This premium content is vetted by the community to ensure it's of a high standard. The application has many functionalities that enhance a customer's online service experience. Jemini prevents calls to the call centre whilst at the same time generating revenue.
Jemini Release 1.6 now has full Facebook integration. Companies are increasingly expected by customers to have a Facebook presence. However, this can be very much a two-edged sword, on the one hand it's a great medium for starting a dialog with your customers, but on the other there is an expectation that you will provide them with service.
Native Facebook isn't a great medium for allowing your customers to answer each other's questions, you can't tell how many questions are being solved, it's hard to keep a record of all that customer data, you don't own the customer and searching for past answers is hard.
Embedding Jemini in Facebook allows you to do all this and at the same time use the same service community on your website as in Facebook. This allows a seamless community service experience for your customers.
Managing Director of Enjenta, Orhan Ertughrul says "Jemini is great for a company that wants to engage with their customers through Facebook without compromising on providing the best customer service. Any company that's serious about serving their customers through Facebook should be looking at Jemini."