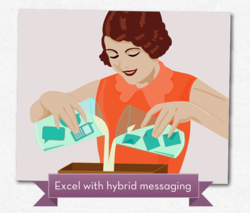 Dick Franken, Takeaway.com: 'It surprised us how easily customers switched from email to chat. They took to Casengo right away. Hybrid messaging is really simple and user-friendly.'
Amsterdam, The Netherlands (PRWEB UK) 3 October 2012
A public beta version of world's smarter customer support app is released today. Casengo is what web shops and other small businesses have been waiting for since realizing that email tends to prolong resolution of enquiries and slow down response rates. The new cloud-based app, developed by an international team in Amsterdam, is unique in two ways.
For one, Casengo introduces a new technique called hybrid messaging. By combining email with live chat, even the tiniest web shops can now deploy live chat to support their customers more efficiently: every email sent from the Casengo application includes a link to respond via chat if so desired, keeping the conversation flowing. Hybrid messaging allows less tech-savvy SMEs to benefit from live chat without having to install a chat widget on their website. By turning static emails into dynamic real-time chat conversations, we can all stop playing those cumbersome games of email ping-pong. It's WhatsApp for businesses!
Secondly, Casengo allows its users to track cases easily across channels. The app automatically groups each customer query (a 'case') in a single timeline, regardless of the communication channels used by either customer or company. This means that whatever has been said through email or chat can be viewed in a single case history. This form of case management is common sense, really. It results in shorter response times, a higher first contact resolution and happier customers. Moreover, this new social customer support software is always free for the first agent.
The Casengo application has been road-tested extensively by the Dutch branch of Takeaway.com, one of the world's leaders in online food ordering. Almost 50 customer service representatives now work with Casengo, resolving well over 1.000 customer queries each week. 'Before using Casengo, it took us about six minutes to respond to each query; it now takes us hardly two,' says Takeaway.com's Dutch country manager Dick Franken. 'It surprised us how easily customers switched from email to chat. They took to hybrid messaging right away. It's all really simple and user-friendly.'
Casengo's mission is simple. 'We want to keep enabling companies to more readily deliver the right answer at once,' says Floris van der Veen, who founded the company a year ago with his brother Thijs. 'In this Twitter age, customers want a quick and satisfying answer. If the company can't provide this, customers simply find another company that can. Casengo equips its users with the tools they need to exceed expectations in terms of customer support.'