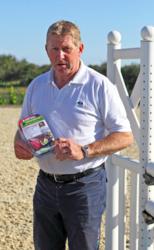 (PRWEB UK) 3 October 2012
Datatag, the market leader in equipment security and registration for business and domestic use, has launched on-line sales of its innovative equestrian security kits. The Datatag single saddle kit is available for £31.49 (including VAT) and the tack room kit, that protects 3 saddles and other items of tack with DNA, costs £89.99 (including VAT). P&P charges apply.
On-line sales are open 24/7 at http://www.datatag.co.uk/equine.php
To promote the new security kits, Datatag has entered into a Business Partnership Agreement with British Showjumping, the sport's governing body. British show jumpers have been in the public spotlight recently as the show jumping team won 'gold' in Greenwich at the recent London Olympics. British Showjumping will now promote the new Datatag equestrian security kits to their members and to the public at selected equestrian events. Team GB Gold medallist Nick Skelton is amongst the first professional riders to adopt the new security kits.
Kevin Howells Managing Director of Datatag ID Ltd commenting on the announcement said, "We're delighted at this opportunity to enter into a partnership with British Showjumping and to be able to work with members at all levels. Sadly tack theft is a growing problem with professional and opportunistic thieves targeting the unwary. Datatag equestrian security systems, which act as a powerful deterrent against theft, are a convenient and cost effective solution to the problem."
Datatag has been active in the equestrian market for some time but a recent increase in tack theft across the UK has prompted this new initiative, after requests from the police and other official bodies. Datatag employ a number of sophisticated security marking devices to protect tack including Radio Frequency Identity (RFID) tags that can be read with special scanners, forensic DNA and Datadots®. Police in the UK are already equipped with hundreds of these special scanners that allow them to scan suspect items of equipment to see if they are tagged. If a Datatag tag is found it is a simple matter for the police to contact Datatag and establish the rightful owner. The recovery rate for stolen Datatag marked equipment is up to 6 times that for unmarked equipment.
Datatag equestrian kits are designed to act as a powerful deterrent against theft and as an invaluable aid in recovery, in the unlikely event of theft. Two kits are available. The first is designed to protect one saddle with an RFID tag and a metal stud, an A5 warning sticker is also included in the pack. The RFID tag provides positive identification and the brass stud and A5 warning sticker (for tack room or horse box) act as deterrents against theft. The second, more comprehensive, kit is designed to protect 3 saddles and other items of tack. The 'tack room' kit contains a rigid A4 warning sign for the tack room door, an A5 warning sticker, 3 RFID tags, 3 metal warning studs and a phial of liquid forensic DNA containing 1,000 Datadots® that can be used to mark other items of tack including bridles, head collars, rugs and stirrups. Datatag equestrian security kits are simple to install at home without any special tools. Registration on-line completes the process. A change of ownership facility is also available on-line.
On-line sales are open 24/7 at http://www.datatag.co.uk/equine.php