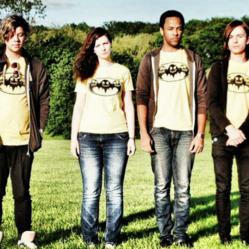 Chicago, IL (PRWEB) October 01, 2012
UK-based indie/punk quartet Johnny Foreigner has signed to Swerp Records as their US label for touring and distribution, Swerp announced Monday. The band, well-known in Europe and Japan but a relative unknown in America, is embarking upon a US/Canadian tour in late October/November. The tour will also coincide with a new EP, "NAMES", simultaneously released in US and UK/Europe with Alcopop! Records, with regional variations in track listing. The label is also re-releasing the band's 2011 underground hit "Johnny Foreigner Vs Everything".
Beyond countless shows in the UK, Europe, Japan, and the United States, the Brummie quartet has been featured in the hit US television series "Shameless", toured with internationally-renowned rock group Los Campesinos!, recorded with legendary producers Machine and Alex Turner, headlined a number of UK festivals including Tramlines and 2000 Trees, engaged in arguably the shortest band breakup in modern history, and their music video for Salt, Peppa, and Spinderella has been viewed over 400,000 times.
Swerp Records has made a formidable splash in the midwest, despite still being in their first year of operation. The band originally connected with Swerp Records owner J Matthew Nix through prior work as a music video director for the band.
"I've been a fan of Johnny Foreigner since I was in college," said Nix. "This is an incredible band teaming up with a label who genuinely gets their attitude and ethos. I couldn't be happier."
Swerp Records is one of Chicago's fastest rising independent labels. It has received particular notoriety for its associated DIY venue Swerp Mansion, host to number of well-known acts including Joan of Arc, Algernon Cadwallader, Birthmark, and Joyce Manor, in addition to legendary punk festival Gnarfest.
The band will be playing a number of US and Canadian Dates in late October and November, in part supported by Swerp Records artist Nervous Passenger. For the most up to date tour schedule, please visit their event page at http://www.facebook.com/events/409214889132839/.