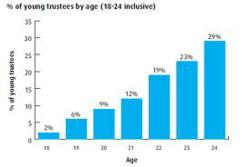 Youth charities have reported increased teenage interest in leadership and management development schemes.
United Kingdom (PRWEB UK) 3 October 2012
A recent sponsorship of two charities to train key workers in leadership skills with the Windsor Leadership Trust, has helped show that young people are genuinely inspired by such schemes. Charity websites like Ambition UK have reported that over 71% of their youth members have been inspired in their career development as a direct result of the leadership schemes and programs made available to them. With 750 training awards delivered to youth members from Ambition UK alone, commercial business is taking note.
Youth charities have also reported increased teenage interest (aged approx. between 12-17) in leadership and management development schemes, despite the fact that they are currently illegible to participate due to their young age. An article posted at Chasingdream.org details the level of interest within the charity sector and the business recognition of the value youth can bring.
As the Windsor Leadership Trust has been operating for 16 years and has assisted many high profile companies and individuals in the business sector, support bursaries have been embraced with open arms by key workers from the charitable sector who have already taken part.
"It was the chance to explore issues in a safe environment, with like-minded peers from a broad range of roles and sectors – together with the professional support of a talented syndicate facilitator and stimulating speakers."
Alexandra O'Dwyer, Director of Scope
With support from high profile organisations like Scope and Leonard Cheshire Disability it is most likely only a matter of time before other charities take note and begin sending key workers onto programmes like these. But it is the youth worker reports of young people's interest that make the scheme so promising for the future.