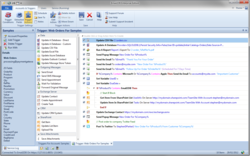 Orlando, Florida (PRWEB) October 02, 2012
Parker Software will be exhibiting for the first time at this years Microsoft SharePoint Conference(SPC12). SPC12 is being held in Las Vegas Nevada, and is a five day event running from November 12th through 15th.
SPC12 is the most comprehensive event in the world dedicated to SharePoint and related technologies. During the 5 days delegates will have the opportunity to listen to compelling keynotes, attend over 175 breakout sessions, share and engage within the SharePoint community and explore SharePoint partner technology within the Expo hall.
Parker Software will be showcasing their Email2DB software which provides advanced Email and SharePoint Automation and is used by companies such as Cisco, NASA, Aon and Xerox. Visitors will be able to visit booth 1140 and see how Email2DB automatically updates SharePoint from received emails including adding items to SharePoint lists, uploading files and attachments, extracting list items for outgoing email and run additional actions based on message content.
A major new release will also be announced during the conference of Parker Software's Email2Cloud service which promises to deliver all the features of Email2DB as a hosted managed service.
To arrange a meeting or a demonstration during the event please contact sharlene(at)parker-software(dot)com