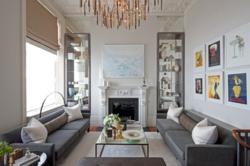 "The Intarya team is very pleased to have worked with Northacre on two more show apartments at The Lancasters..." says Daniel.
(PRWEB) October 03, 2012
Renowned international interior design firm Intarya, helmed by Daniel Kostiuc, completed the design of a further two show apartments at the prestigious residential development, The Lancasters, London in June 2012. Intarya previously designed the development's award-winning launch show apartment and all its communal areas. The latest brief dictated the creation of two luxurious apartments - a studio and two-bedroom unit - which would have wide appeal for future sale.
The Lancasters was originally an elegant parade of 15 magnificent stucco-fronted Grade II listed houses dating from the mid nineteenth century. Restoration by London's leading team of developers, architects and interior designers has created a unique fusion of traditional architecture with brand new design and construction.
The majority of the 77 homes face south with views onto, or across Hyde Park. Each home has been designed around the grandeur of the original architecture and interior features of the building, such as high ceilings, ornate cornicing and fireplaces.
The studio apartment, designed by Intarya as the perfect London pied-à-terre, sold quickly, and the two-bedroom apartment is now on the market for £2.55million. Here, the dining area has undergone a huge transformation, in which the walls have been clad in mirror to increase the feeling of space and natural light. A sculptural vine leaf wall light organically grows up the mirrored wall and across the ceiling, creating an intimate and romantic setting for entertaining.
The double height ceiling in the reception room has been maximised with floor-to-ceiling joinery either side of the fireplace. The use of grey-stained sycamore in a high gloss finish and antique mirror adds to the glamour and draws the eye towards the glass droplet chandelier above.
The interplay of the contemporary and the traditional that flows through this apartment is best showcased in the master bedroom. On a peaceful backdrop of soft green upholstered linen walls, the clean lines of bespoke furniture contrast with statement over-scaled Rococo gilt mirrors, hung above sleek lacquered bedside tables with antique mirroring.
"The Intarya team is very pleased to have worked with Northacre on two more show apartments at The Lancasters. These apartments are a departure from the opulent spaces we had previously created for the development. A much fresher, younger aesthetic was favoured, and that allowed us to showcase our versatility," says Daniel.
Intarya is a wholly owned subsidiary and works hand in hand with Northacre on their schemes, however 90% of the project portfolio is undertaken for private clients and a select number of other developers.
As its newly appointed managing director, Brazilian interior designer Daniel Kostiuc heads a team of 12 interior designers and architects. Daniel studied interior architecture at UCLA and has worked on five-star resorts, boutique hotels and private homes.