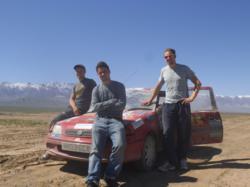 (PRWEB UK) 1 October 2012
The company installed its vehicle-tracking solution into the team's vehicle and used a global network SIM card to capture the data and provide real-time monitoring for the support-team. A live map tracked the vehicle every step of the way, capturing the highs – a much-needed 24hr pit-stop in the Czech Republic – and the lows – detours in Iran and Turkmenistan caused by difficulties with border crossings and a crash in Uzbekistan which left the team shaken but not stirred.
Masternaut's technology, which uses GPS satellite tracking, kept track of the speed and distance of the vehicle at all times, alerting those following online to any incidents along the way. The journey was completed in just 41 days, taking the team across 18 countries in total covering a multitude of conditions and terrains; from France to Uzbekistan, from Iran to Russia, and many more.
Anthony Coupland, group leader and Chemical Engineering student, said: "We made it! The journey was a little hairy at times to say the least, but we knew that our families were constantly watching the online map to check our progress so that gave us great motivation to keep going. We had a major crash, almost putting an end to our dreams, but we were lucky to scrape through and get back on the road. It was lucky that we had the support of Masternaut's tracking solution so that we could reassure our families we were OK and back on course."
The team, dubbed 'The Rorkes Drifters,' was joining teams from across Europe in a competition called 'The Mongol Rally' to raise money for charitable causes. In addition to providing tracking technology, Masternaut has also donated a further £2,000 to Help for Heroes and The Lotus Children's Centre Charitable Trust – a non-profit children's charity in Mongolia which supports vulnerable children in Ulaanbataar.
Martin Hiscox, Chairman and CEO of Masternaut, added: "Masternaut's scale along with the robustness of our systems put us in a fortunate position to be able to cover all 18 countries with ease. We have been hugely impressed by the dedication and determination that the team has shown along such an arduous route."
Masternaut's technology is more commonly used commercially to measure fleet utilisation, driver behaviour and location-based services for many leading European brands and enables companies to reduce costs, increase their competitiveness and improve risk management.
ENDS
Images to accompany the news:
Masternaut logo
The Rorkes Drifters
Route map
About Masternaut:
Masternaut is the leading Pan-European software provider of on demand telematics solutions, with the broadest range of products and services positioned to meet growing customer demand for robust, easy-to-deploy solutions that provide deep business intelligence, help customers to minimise costs and maximise profitability.
Masternaut employs over 500 telematics professionals, supply services to more than 10,000 customers and have over a quarter-of-a-million assets, vehicles and people connected to our SaaS solutions. Over 12,000 users interact every hour with our systems, over 45 million data transactions a day are processed and configured into 16,500 reports distributed daily.
Founded in 1996, Masternaut began as a vehicle-tracking solution provider. Through technological innovation and partnerships with best-in-breed providers, Masternaut grew its product features portfolio to include sustainability business intelligence solutions that lower emissions and reduce fuel costs.
Masternaut is headquartered in Leeds, UK, with customers using our technology in 32 countries. Masternaut has European regional offices in France, Germany, Spain and Sweden.
http://www.masternaut.com
About the Mongol Rally:
The Mongol Rally began in 2004 when six teams set out to try and drive from England to Ulaanbaatar. Four succeeded and the rally became an annual event, exploding in popularity. In 2012 more than 400 teams from 20 different countries attempted to drive to Mongolia in tiny cars with no set route, no back up and no guarantee of reaching the finish line in Ulaanbaatar. Glorious mayhem on a global scale.
http://www.theadventurists.com/the-adventures/mongol-rally
The Mongol Rally was created by The Adventurists, a company not just hell bent on fighting to make the world less boring with extreme adventures, but also raising massive buckets of cash for charities. We now have a mighty quiver of six ridiculous adventures around the world, including the Rickshaw Run in India, Mototaxi Junket in Peru, the Ice Run in Russia and the Mongol Derby, the longest horse race in the world (across Mongolia) with a Guinness World Record to prove it.
http://www.theadventurists.com