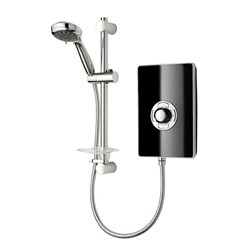 The new design on the Aspirante range features a wonderfully sophisticated look
(PRWEB UK) 3 October 2012
It is always vital for home owners to buy a luxurious design within a bathroom suite. Now Triton Showers have made this easier by introducing their new range of six new Aspirante electric showers. Another beneficial area with the new range is the highly affordable price making it perfect for anyone no matter what budget consumers are on. The new design on the Aspirante range features a wonderfully sophisticated look with its specialist curved slim-line designs, finding the ideal location for the item can easily be identified. The great design is ideal for any bathroom suite that can easily fit into any style.
As the unit is available in six different variants, the high gloss and matt finishing allows buyers to fit it into any specific colour scheme effortlessly. Home owners can choose from two different highly glossed finishes in white and black creating a stylish and classic look. The availability in colours allows consumers to create a brilliant monochrome feel to fit perfectly into any bathroom scheme. The showers can also come in contemporary designs with a sleek Brushed Steel or Gun Metal feel creating an industrial look, or for a more natural stone look, Black Pearl or Riviera Sands units are available for an alternative presentation.
The features of the electric showers also feature highly beneficial usage with an easy controllable knob to alter and select appropriate temperature. The inclusion of soft touch electronic buttons ensures the device can be easily activated in any circumstances for the ideal bathroom experience. The other design features include a chrome trim and rub-clean shower heads for the perfect combination of both style and performance.
For extra safety, all units include a useful shutdown feature perfect for families. This feature includes a phased shutdown designed to flush out all remaining hot water to limit the probability of negative effects for the next user. The ability to use this feature also enhances the length of life within the shower as less repairs are required allowing you to save money.
All enclosures are useful in both 8.5kW or 9.5kW so can be easily attached to a current existing unit resulting in minimum installation. A reversible water inlet also allows you to easily fit the Aspirante range into any space even if limited.
About Bella Bathrooms:
Bella Bathrooms is one of the finest UK online bathroom retailers based in the North-East of England and offer continuous great deals of bathroom refurbishments, shower, towel rail and radiator updates, stylish bathroom furniture and various other key elements at prices that are guaranteed to be unsurpassable. The latest updates continuously made have further improved the overall quality and they have set a high standard for things to come in the future.
Bella Bathrooms
Tel: 0844 8117 017
Available to contact from 9:00 – 5:30