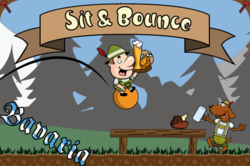 Bounce through the Bavarian beer garden and collect beer mugs for 'Waldi'.
Eschwege (PRWEB) October 03, 2012
In this game users play a true Bavarian called 'Sepp' who bounces on a hopping ball and tries to serve his dachshund 'Waldi' as many beer mugs, knuckles of pork and roasted chickens as possible.
'Sit & Bounce - Bavaria' offers many hours of gaming fun with forty exciting levels in Bavarian beer gardens and in the Alps. The user must bounce from platform to platform, evade needle orbs, get across moving obstacles and collect Bavarian delicacies for 'Waldi'.
When the player has enough bonus points, he gets a 'Heli-Pack' with a small propeller. With the 'Heli-Pack' strapped to his back, 'Sepp' can now fly through Bavaria.
Thomas Kowalski on the idea and development of the game: "I remember the time between the 70s and 90s when kids used to bounce through streets and front yards on a hopping ball. Combining this idea with game characters and delicious delicacies from Bavaria has resulted in 40 exciting gaming levels. After 28 years of software development, I have never had more fun working on a project than I did with 'Sit & Bounce - Bavaria'.