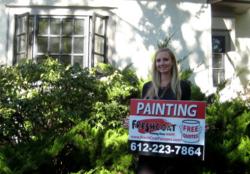 It fit with my needs, and it really is recession-proof. Painting is everywhere, all the time. When you can't afford a remodel, you can paint. If you do remodel, you'll paint. .... Whatever home improvement you're doing, it likely will involve painting.
Cincinnati, Ohio (PRWEB) October 02, 2012
Coffee shops and painting companies may not have much in common, but Anne Long says her years working at Caribou Coffee prepared her well for the launch of her Fresh Coat Painters franchise in South Minneapolis, Minn.
While attending college, she went to work at Caribou. In three days, she got a promotion, and within a year, she was a store manager.
"I liked the idea of my own business, and Caribou gave me the confidence to know that I could do it," she said. "I learned troubleshooting, hiring and firing, scheduling, reading P&L (profit and loss) sheets. I guess I have a lot of experience for a 29-year-old."
As the mother of an active 4-year-old with another baby on the way, Long said she wanted an in-demand business that allowed her flexibility. "I don't mind working long hours, but if I want to take an hour to see my daughter's dance class, I don't want to have to ask someone else if it's OK."
For Long, a franchise was the best option because "all the kinks had been worked out," she said, and she didn't want to spend months getting the business up and running.
"My husband and I were exploring options when we saw Fresh Coat listed in Entrepreneur magazine," she said. "It fit with my needs, and it really is recession-proof. Painting is everywhere, all the time. When you can't afford a remodel, you can paint. If you do remodel, you'll paint. To help sell your home, you'll paint. After you buy, you'll want to paint. Whatever home improvement you're doing, it likely will involve painting."
Long said she also valued the structure of the company in that, as an owner, she would promote and grow the business while experienced painters complete the projects.
"The painting industry is kind of new to having female owners, and several people have commented to me about how unique it is to see a woman heading a company," she said. "But Fresh Coat is getting lots of them now. I see it as an asset. Many of the clients are women, and they like to work with women sorting out the project details and discussing options. Every household is different, and that's cool, so it's fun to work with them to find what suits them best."
Bernie Brozek, president of Fresh Coat, said Long understands well the principle of client satisfaction to long-term success.
"She, like our other owners, knows that running a painting business isn't just about the painting," he said. "It's about the client's entire experience from the first call to the job completion and beyond. The client's satisfaction leads to repeat business as well as valuable referrals to other potential clients."
Fresh Coat's structure also is appreciated by painters, who are employees, never subcontractors, he said. "Painting is an industry with a negative reputation – late arrivals, messy clean-up, sloppy workmanship – so those painters who are professional appreciate the opportunity to work for a company that provides pay, benefits and steady work."
Long said she had the same observation after placing job ads.
"Applicants were surprised they'd be employees and that painting could be a career for them," she said. "One of my goals is to establish a solid reputation for my company and my painters, so that more business will follow. Good employees can have a real future, earn a good living, pay their bills. If they want those things, they have room to grow with Fresh Coat."
Brozek said the company strives to assist franchise owners in achieving their goals by providing quality marketing, training and resource materials and offering access to corporate offerings such as a 24/7 call center, proprietary EPIC estimating system, Paint Now-Pay Later same-as-cash financing, Automatic Touch-Up for businesses, and fund-raising opportunities for charities.
"Those things add credibility," Long said. "Our website looks complete with business information plus links, pictures, coupons and more. The call center provides a live person every time who can answer questions and set appointments. The EPIC system lets me get accurate measurements and give real quotes, not estimates, for client's projects."
Long also benefits from the interaction with her fellow franchise owners, especially those in Minnesota.
"Steve (Bowen) and Jerry (Fancher) have been very welcoming," she said. "Before I launched, Jerry let me join him on an Eden Prairie job, and because of his connection to 'Bath Crashers,' I'll be doing episodes of that show later this year. With our territories bordering each other, we're all working together to build a good name for Fresh Coat throughout the Minneapolis area."
To learn more about Fresh Coat Painters of South Minneapolis or to schedule an on-site quote for residential or commercial projects in St. Louis Park, Hopkins, Medicine Lake, Plymouth and their surrounding communities , call 612-223-7864 or visit http://www.freshcoatsouthminneapolis.com.
Founded in 2004 in Cincinnati, Ohio, Fresh Coat Painters provides services for residential, commercial and governmental customers in more than 100 major cities across the United States and Canada. Fresh Coat is part of the International Franchise Association, the Small Business Association's Franchise Registry, VetFran and Minority Fran. For more information, call 866-708-9355 or visit http://www.freshcoatpainters.com.