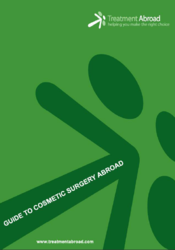 Making any decision about cosmetic surgery should always be well researched
London, England (PRWEB UK) 3 October 2012
For people thinking of travelling overseas for cosmetic surgery, a brand new, free and independent guide, published this month and the first of its kind in the UK, may help people to make a more informed decision by explaining both the potential advantages (including savings) – and the risks.
The Treatment Abroad Guide to Cosmetic Surgery Abroad sets out in easy to understand language everything patients need to consider before going overseas for cosmetic treatment including helpful checklists of questions to consider or ask your prospective surgeon.
The guide covers important topics such as:

Which are the top destinations for cosmetic surgery?
How do I compare countries, clinics and surgeons?
How do I compare the costs in different countries and currencies?
How is cosmetic surgery abroad regulated?
Do I need special travel insurance?
What happens with aftercare and if something goes wrong when I get home?
The guide also considers topical issues such as the recent PIP implant scandal and the need to understand issues such as the provenance of any implant or medical device used.
The guide has been written by the team at Treatment Abroad including the acknowledged UK expert on medical tourism, Keith Pollard, who has worked in the sector for many years and regularly speaks at medical tourism conferences around the world. The guide, like the website behind it, is impartial and aims to give a fair assessment of the pros and cons involved in travelling to another country for treatment.
Treatment Abroad is well known as the independent resource (ie not owned by a hospital group or surgeon) for those seeking to travel abroad, be it for cosmetic, dental or health reasons. A sister guide, The Guide to Dental Treatment Abroad, will be published shortly.
The site also allows those considering overseas surgery to request quotes for treatment from a range of clinics and destinations.
The Guide to Cosmetic Surgery Abroad can be downloaded from http://www.treatmentabroad.com/cosmetic-abroad/cosmetic-surgery-abroad-guide/ and is completely free.
Medical tourism expert Keith Pollard of TreatmentAbroad.com says the key message of the guide can be summed up in three words:
"If people take one piece of advice away from our new guide, it should be 'do your homework'. Making any decision about cosmetic surgery should always be well researched but if you're thinking of going overseas then that's doubly true, partly because you've got so many more options.
"There are some amazing surgeons operating around the world, many able to offer very competitive prices when compared to their UK equivalents and the thousands of people who travel overseas for surgery every year prove that it can actually be very straightforward and hugely successful – as long as you've done your homework and found the right option for you, based on a wide range of factors such as safety and language as well as price.
"Our aim with this guide is to give anyone considering cosmetic treatment the ability to consider all the overseas options as well as those in the UK, and the information they need to make an informed decision about their body."
Neither the new guide nor the Treatment Abroad website provides advice on medical conditions and treatments, nor do they recommend specific providers of healthcare services and treatment. The guide and site are intended to support, not to replace the relationship between patients and their doctors or healthcare providers.
About Treatment Abroad
The Treatment Abroad medical tourism web site is owned and managed by Intuition Communication who also manage the Private Healthcare UK site, providing easy access for the public to information about private healthcare services and facilities across the UK. They also manage the Harley Street Guide, for patients from the UK and abroad who are seeking information about doctors, dentists, hospitals and medical and clinical services available in this centre of London's medical expertise.
All content on treatmentabroad.com is reviewed by an editorial team before publication. Information on healthcare services is drawn from authoritative sources to ensure that it is accurate, and up to date. Treatment Abroad is a commercial site which is funded by advertising. However, all healthcare providers are entitled to a free listing in the appropriate directory of services.
The site's philosopy is "helping you make the right choice" by providing information that is relevant, comprehensive and up to date so that patients can make the right choice of healthcare service or provider abroad.