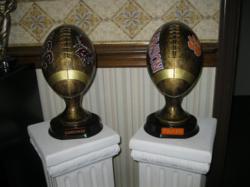 Gamecock fans dominate their tiger pawed counterparts
Cayce, SC (PRWEB) October 03, 2012
Gift Shop owners like Gloria Cook must be skilled at recognizing trends and buying patterns is they are to succeed. Football season kickoff, winter holidays, and Fathers Day usually bring inn the sales that support gift shops year round. However in recent years another trend has been recognized at Gloria Cook's shop; when it comes to memorabilia purchases Gamecock fans beat Clemson fans every time!
While The Trophy and Gift Shop carries both tiger paw and gamecock logos, the latter seems to be the more popular choice. From intricate football size trophies to engraved pens, coffee mugs, and key-chains, for the last two seasons "Gamecock Fans have dominated Clemson Fans 3 years in a row"
"I would love to see the Clemson Fans make a comeback" says Gloria Cook, "we miss their business and the rivalry." Mrs. Cook believes that the last three meetings between the two teams has caused the rivalry to dissipate but she hopes the trend is only temporary. Although it can sometimes be a hazardous work environment to mix tigers and gamecocks in the same store Gloria Cook enjoys both. "Both teams are very good and their fans are very loyal, I enjoy carrying both team's memorabilia." It's true the last three years has been a little one sided but historically the tigers are ahead of the gamecocks 65-40 overall. Separated by 132 miles, and rivals for 132 years one thing is for sure; The Battle of the Palmetto State will continue for many more years...and fathers will continue to give their sons gamecock and Clemson jersey's!

Gamecock and Clemson memorabilia
Awards medals and trophies for little league - highschool
Personalized Diploma plaques
Custom engraving and personalized gifts
About the company:
The Trophy And Gift Shop is the area's foremost custom design trophy and awards dealer. Customers will be proud to present or receive an award from The Trophy and Gift Shop. There is no finer way to memorialize, celebrate or bring recognition to an outstanding achievement than with a recognition award. With over 10,000 pieces and styles to choose from, our talented team can customize a design to suit and event or milestone. For more information, please visit their website at http://www.trophyandgiftshop.com.