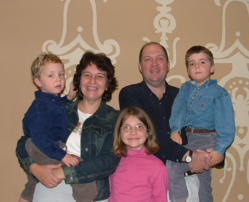 Greenville, SC (PRWEB) October 03, 2012
Powdersville Self Storage has announced that they will be sponsoring missionaries that will be traveling to Eastern Europe in the near future. They have been a strong supporter of Campus Crusade for Christ for the past three years. The owners and managers of the self storage facility state that they have sponsored this ministry through one particular missionary family and their team for the past three years. That family consists of Tommy and Dana Dove, and their three children.
Tommy and Dana are in the business of taking the gospel to students in former Communist countries. They, along with their team, are located in Budapest, Hungary, and have been serving with Campus Crusade for Christ for over 20 years. They do travel to Romania, Bulgaria and Serbia to share the gospel there as well. Their ministry is focused on evangelism and discipleship to college students. Statistics show that 150 to 200 people are being led to the Lord every year through the efforts of the Doves and their team of missionaries. The Doves and their team also disciple and train these new Christians in the ministry.
Powdersville Self Storage, may not be able to physically go to the other parts of the world to share Christ, but they can certainly help to keep those missionaries there and give their support to them for all of their efforts in sharing Christ's love.
There are some of customers who have already donated to this ministry, and we invite anyone who would like to contribute, to do so, especially with the upcoming holiday season. You may partner with the Doves through monthly or special donations online at this website: https://give.cru.org/0354084.
Join us in helping spread the gospel to the uttermost parts of the world!
About the company:
Powdersville Self Storage is a locally-owned and operated storage facility located in Greenville, South Carolina serving Greenville, Powdersville and Easley. They offer convenient and affordable storage for residential items. They provide impressive, state-of-the art measures so that all stored items will be safe and out of harms way. Voted Best of The Upstate by readers of the Greenville News for 5 years in a row. For more information visit their website at http://www.powdersvilleselfstorage.com.