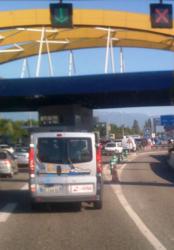 Mountain Drop-offs prides itself on delivering a bespoke service 365 days a year.
Geneva (PRWEB UK) 3 October 2012
The first snow showers are showing on the peaks of the French Alps and Geneva airport transfer specialists Mountain Drop-offs has announced that it's business as usual during inter-season.
The Chamonix-based transfer business operates 365 days a year and during the autumn inter-season 30 September to 15 December will continue to offer bespoke group share and private transfers. The ongoing expansion of the business means that it will continue to optimise its schedule to ensure the quickest transfers possible for those travelling during the 10-week run-up to winter high season.
Prices for flexi-shared transfers from Geneva to Chamonix will be 35€ per person each way during core hours and 40€ each way outside of that (before 7am and after 10pm). Private transfers are 185€ for up to eight passengers.
With limited public transport options, the year-round operation of businesses like Mountain Drop-offs is important to the residents of Chamonix and other alpine resorts providing a cost-effective travel option irrespective of the time of year.
Like many resorts, Chamonix isn't just a tourist destination, it is a vibrant mountain town and whilst visitor numbers may dwindle in the autumn the need for reliable services doesn't diminish. Mountain Drop-offs' Managing Director, Simon Hills explains: "Mountain Drop-offs prides itself on delivering a bespoke service 365 days a year.
"The team works diligently to deliver the best possible solution to individual travel needs and part of our continued success is attributable to the fact that we have made a commitment to operate year-round even when, from a purely business perspective, it may not directly benefit the bottom line.
"It's about our commitment to the valley and our partner businesses and continually striving to deliver a premium service both to local residents and visitors."
High season services for winter 2012/13 season and Mountain Drop-offs' Super Saver fare of just 28€ each way will begin on 15 December 2012 – or even earlier on 8 December if the snow arrives and the lifts open ahead of schedule! To book on line just go to http://www.mountaindropoffs.com
Ends
Issued by Sue Roberts:
Sue Roberts Consulting, Tel: +44 77 36 23 34 73, Email: susiesueroberts(at)btinternet(dot)com
For further information contact:
Simon Hills, Mountain Drop-offs, +33 44 50 47 17 73; Email: simon(at)mountaindropoffs(dot)com