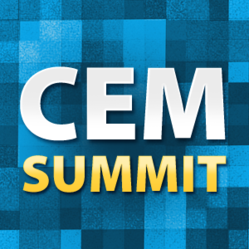 The Summit presenters demonstrated how you can win by honoring preferences and engaging consumers in relevant and meaningful ways
Atlanta, GA (PRWEB) October 01, 2012
PossibleNOW, the leading provider of customer experience and preference management solutions, hosted the inaugural Customer Experience Marketing (CEM) Summit last month in Atlanta. The groundbreaking event welcomed a capacity crowd of marketing practitioners for a dynamic discussion on customer personalization and preference management.
"We created an environment where the new reality of digital marketing, not time-honored traditions, could own the stage," said Scott Frey, CEO of PossibleNOW. "Our presenters demonstrated how you can win by honoring preferences and engaging consumers in relevant and meaningful ways."
The summit included a presentation from author and Marketing Hall of Famer Ernan Roman on customer engagement strategies that drive revenue and shareholder value. Ken Sponsler, Vice-President and General Manager of CompliancePoint, a PossibleNOW company, led a panel on privacy risk management that included Rachel Thomas, Vice-President of Government Affairs for the Direct Marketing Association and Scott Margolis, Director of CIO Advisory for Financial Services for PricewaterhouseCoopers.
Nancy Gibson, Vice President of Shopper Strategies and Solutions at Coca-Cola, spoke about personalized messaging and point of purchase strategies and Steven Shapiro, Director of Global Relationship Marketing at Symantec offered remarks on how customers define high value experiences. The event also included presentations from:

Rob Tate, Preference Management Evangelist at PossibleNOW
Phil Grudzinski, CEO of the Professional Association of Customer Engagement (PACE)
Timothy O'Brien, Group Manager of Digital Communications at Intuit
Michele Shuster, Partner at Mac Murray, Petersen & Shuster
RedPoint CEO Dale Renner and others.
With a focus on consumer-driven personalization, the event spoke directly to marketers working to get their arms around customizing communications in a digital world. This critical capability impacts a broad number of industries including retail, insurance, financial services, home services, telecommunications, education, travel and more. The capacity crowd took part in highly interactive sessions and offered real-time feedback via Twitter polls. The customer experience conversation took place on social media as presenters, panelists and attendees took ownership of key marketing hashtags on Twitter and shared photos and quotes via Facebook, Google+ and more.
"I loved the intimate setting for networking and easy access to presenters," said Marc Carlson, Business Relationship Manager, CustomerCount. "It made insightful conversations possible and ensured that every minute of the conference was valuable."
To learn more about the CEM Summit visit http://www.cemsummit2012.com.
About PossibleNOW
PossibleNOW, headquartered near Atlanta, Georgia, is the trusted source for consumer preference management and compliance solutions. PossibleNOW leverages its expertise in information technology, database management, and consumer privacy and regulatory compliance to provide cloud-based applications and solutions. PossibleNOW's MyPreferences™ is an enterprise preference management solution that effectively collects and manages the contact preferences of customers and prospects including servicing, privacy, marketing (opt-in and opt-out) across all marketing channels and makes the preference data actionable. The DNCSolution® suite of cloud-based services provides comprehensive tools that help direct marketers comply with federal and state Do Not Contact legislation (Do Not Call, Do Not Fax, Do Not E-mail, Do Not Mail). For more information, call (800) 585-4888 or (770) 255-1020, e-mail info(at)possiblenow(dot)com or visit http://www.possiblenow.com.
###