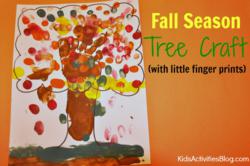 Leaf color art make sweet keepsakes for the little artists.
Dallas, TX (PRWEB) October 07, 2012
Preschool fall craft ideas is the latest buzz on Kids Activities Blog among Moms and teachers. Fall season collages or fingerprint art is the latest fall activity perfect for little fingers. Take the children to observe the changing fall season leafs and then let them duplicate the vast amount of colors during this activity.
This fall craft for preschoolers requires paint in fall colors and a white sheet. No paint brushes necessary. Let the child step on the white paper to make a brown footprint. This footprint serves as the tree trunk and the branches for the leafs. Then let the child dip their fingers in the various leaf colors and let him and her have a blast at making the leafs. Big ones, little ones, falling ones or even a pile of leaves on the ground. The imagination has no boundaries. This and other fun fall craft for preschoolers make great keepsakes for years to come.
Tree craft ideas are also a hot topic on Kids Activities Blog this fall. Cookie cutters used as stencils has even the youngest artist screaming for more. This easy idea uses cookie cutters of any shape and size, a brown tree cut out according to a template, and some paint. By using the cookie cutters, the child uses easy stencils that provides structure and makes the art piece look like a real clean cut piece of art.
Kids Activities Blog is a website created by and for quirky Mommas featuring the latest buzz on kids activities. Daily blogs from American as well as overseas Mommas show up-to-date trends on kids activities for all different age groups. The ideas for kids activities are endless. Baby, toddler, kids and teenager tested activities are listed on a daily basis that offer out-of-the-box learning opportunities in classrooms or at home. Come check it out to get inspired.