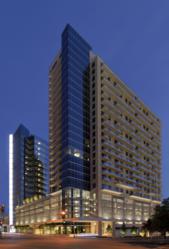 "These community's outstanding attributes has positively impacted our residents and represent the innovation we continue to incorporate in each of our new developments." Ben Pisklak, Executive Vice President and Chief Investment Officer.
New York, NY (PRWEB) October 01, 2012
The Multi-Housing News (MHN) Excellence Award recognizes outstanding people, companies and properties throughout the multifamily industry and the contributions they have made to the industry in recent years. Winners were announced on September 24 in New York at MHN's Cocktail Party and Awards Celebration. MHN recognized Gables Residential http://www.gables.com with two Best Development Awards, Gables Park 17 - Best High Rise and Gables West Ave - Best Mid-Rise. These prestigious awards are presented to communities demonstrating strong financial performance, customer service, resident satisfaction and design excellence.
To determine this year's winners, the judges spent two days at MHN's office in New York, contemplating the submissions and their respective achievements. In the end, many of the winners went above and beyond the basics to realize success, showcasing innovative, though not necessarily costly approaches that will prove to be tried-and-true in the years to come. This year's panel of judges was comprised of Manny Gonzalez, AIA, LEED AP, Principal, KTGY; David B. Woodward, President, Compass Rock Real Estate LLC; Doris Pearlman, MIRM, IIDA, President, Possibilities for Design, Inc.; Eric S. Silverman, Co-Founder and Managing Partner, Eastham Capital.
Gables Park 17 is a luxury, LEED-Certified Silver community. The building's architecture is an elegant, all-glass residential tower that reflects the surrounding skyline in a sweeping contemporary facade. The seventh-floor features the amenity deck with access to the one-acre green space, pool, and entertainment suites. Amenities include custom kitchen islands, cabinetry by Armstrong, stainless steel Energy Star appliances, i-Pod docking stations with built-in speakers, mosaic glass back splashes, bamboo flooring, solar shades, and frame-less shower enclosures. Residents are provided the perfect work-life balance of commerce, retail, dining, and culture highlighted by the new Klyde Warren Park, the Dallas Museum of Art, the Nasher Sculpture Center, and the American Airlines center.
Gables West Ave and the retail center, West Ave at River Oaks was designed to appeal to the renter by choice seeking the convenience of mixed-use living. Community features include spectacular panoramic views of Downtown and the River Oaks area, a 7th floor infinity-edge swimming pool, dining/conference room for private use with gourmet demonstration kitchen, theater/media/gaming lounge, and sky bridge connecting all residential to nearly 220,000 square feet of high-end boutiques, restaurants, and offices. Apartment homes incorporate high-end finishes such as wood, ceramic tile or natural stone floors, granite counter tops, custom stained wood cabinetry; and sleek stainless steel appliances. The layout of the site was innovative for the Houston market, in that it created a new retail lined urban street with residential units facing both the newly created street and the existing Kirby Drive.
"Gables Residential is honored to have both Gables Park 17 and Gables West Ave recognized as MHN communities of excellence," said Ben Pisklak, Executive Vice President and Chief Investment Officer. "We are very proud of the teams that came together to produce both of these properties. These community's outstanding attributes has positively impacted our residents and represent the innovation we continue to incorporate in each of our new developments."
For a listing of all winners please visit http://www.multihousingnews.com/category/awards.
About Gables Residential
With a mission of Taking Care of the Way People Live, Gables Residential has received national recognition for excellence in the management, development, acquisition and construction of luxury multifamily communities in high job growth markets. Gables Residential owns, develops and manages multifamily communities and mixed-use developments in Atlanta, Austin, Dallas, Houston, South Florida, Southern California, and metropolitan Washington, D.C. Additionally, it has third-party management operations in the Chicago, New York, Boston, Phoenix, Central and North Florida, and Washington State markets. Gables Residential enjoys a healthy portfolio with approximately 37,000 apartment homes under management, including a corporate-owned portfolio of 54 stabilized communities comprising approximately 13,800 apartment homes. An additional 8 communities are under development/lease-up, comprising approximately 2,500 apartment homes. Gables also has the ability to develop another 2,000 apartment homes through its shadow pipeline of undeveloped land owned. For more information please visit http://www.gables.com.