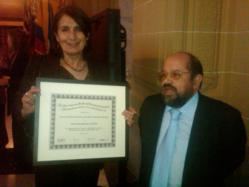 We dedicate this award to the thousands of women who are fighting collectively to improve their lives and communities by making the right to health a reality
Owatonna, MN (PRWEB) October 03, 2012
Fundación Educación Popular en Salud (EPES) has received the Clarence H. Moore Award for Excellence for Voluntary Service, an international award presented by the Pan American Health and Education Foundation (PAHEF) and the Pan American Health Organization (PAHO). This award recognizes the work done by voluntary/nongovernmental sectors to improve the lives of the people of the Americas. This is the first time a Chilean organization has received the award.
In a ceremony held in mid-September in Washington D.C., EPES received the honor in recognition of its 30 years of promoting and implementing sustainable, community-based public health initiatives among the poor in Chile, specifically targeted to its women and children. Each year, EPES touches the lives of more than 100,000 women and their families.
"We dedicate this award to the thousands of women who are fighting collectively to improve their lives and communities by making the right to health a reality," said Rosario Castillo, EPES Executive Secretary.
Founded in Santiago and Concepción, Chile in 1982 by Minnesota native Karen Anderson, EPES focuses include violence against women prevention, HIV/AIDS and mental health care, tobacco control, reproductive and sexual health awareness and leadership. It brings attention to these issues through education, training, research and advocacy. EPES also works with local health services, community health workers, grassroots self-help groups and human rights and issue-based activist networks. Karen Anderson works in Chile as Global Mission personnel of the Evangelical Lutheran Church in America (ELCA).
For more information, visit http://www.epes.cl or http://www.actionforhealth.org.
About Clarence H. Moore Award for Excellence for Voluntary Service
Created in 1989, the Clarence H. Moore Award for Excellence for Voluntary Service recognizes the work of the voluntary/nongovernmental sector in improving the lives of the peoples of the Americas and advancing the public health sector, calling attention to the achievements of non-governmental organizations in Latin America and the Caribbean to improve public health.