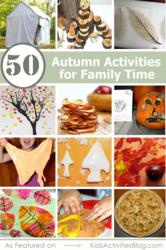 Fall provides an open-end list of materials for sensory tub activities for kids.
Dallas, Texas (PRWEB) October 10, 2012
Fall activities for kids including making sensory tubs is the latest buzz on Kids Activities Blog. Finding sensational activities during Fall is as simple as looking around outside. Creating a sensory tub is a wonderful way for children to play, giving them various different colors and textures to explore using the endless materials provided by mother nature during the fall.
Making a fall season sensory tub is simple. Using an under-the-bed storage container for an indoor sensory tub is big enough to give the children room to play, but also easy to fill, store and transport around the play area.
Outdoor sensory tubs should be set up on the patio or other sheltered area to ensure that the little ones are not getting too cold while exploring in their tub outside.
Natural materials for the tub are endless and can be collected during nature walks or simply in the back yard. They can include pine cones, leafs, dried pasta in the colors of the fall, lentils, bark, sticks and twigs and many more. The imagination is boundless.
In addition to the top 10 sensory tubs, Kids Activities Blog features a list of 50 fun activities for autumn. This list has Moms and teachers blog in numbers suggesting their favorite fall acticities for kids. This list includes pumpkin playdoh, building a catapult, owl art, churning homemade butter, and building a DIY PVC pipe tent just to name a few of these out-of-the-box ideas.
About Kids Activities Blog
Kids Activities Blog is a website created by two moms (who collectively have 9 children), Rachel Miller and Holly Homer from June Cleaver Nirvana. It is their daily goal to inspire parents and teachers to play with kids. This interactive website publishes simple things to do with kids twice a day. Kids Activities Blog is a great tool for moms and teachers to find kid-friendly activities that create memories and sneak learning into the fun.