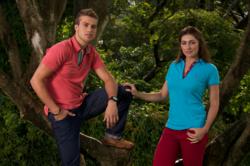 Miami Beach, FL (PRWEB) October 05, 2012
B FROG, founded and designed by siblings Christian and Steven Cremer in early 2012, is an apparel and accessory brand offering contemporary unisex pique tops and scarves and is announcing its official launch. In an effort to support more than one social cause, B FROG's missive is to be able to provide children all over the world with basic needs – starting with one country at a time. Inspired by their home country Guatemala and with their alliance with Save the Children foundation, the Cremers' brand provides consumers with the opportunity to donate their dollars to charities offering children with basic needs from clothing and food to clean water.
Inspired by their various visits to rural communities in Guatemala and after ample observation of the use of indigenous materials, the designers were influenced to use Mayan materials. B FROG introduces pique shirts for men and women to their apparel collection. "We felt a deep connection with the history of Mayan ancestry. The Mayan textiles are colorful and unique and host the history of our ancestors in every thread," explains Christian Cremer.
Composed of 100% cotton and signature handmade Mayan textile, B FROG shirts feature the traditional composition of a pique shirt with a 4-button handmade Mayan placket displaying an artful design, classic fit and a small-embroidered frog logo left of the chest. At the affordable price of $54 for women's shirts and $59 for men's shirts, consumers can chose from an array of shades from classic hues including white and brown to punchy hues including coral and turquoise. Sizes are available in small, medium, large and extra-large. Accessories include unisex, handmade, 100% cotton scarves that feature a multi-color combination.
While delivering high quality apparel and accessories, B FROG strives to combine culture with fashion, competing in all markets and continents, and improve the lives of children globally. The strategy: to start with one country at a time by helping children in the poorest countries. For every purchase, B FROG customers can select the following basic needs for survival: a shirt or a one-month supply of food or clean water. Together, the Cremers share the following philosophy: to fully receive, you must give fully.
For more information about B FROG and to make purchases, please visit http://www.bfrog.com.
Contact:
Katherine Fleischman
katherine(at)blinkpr(dot)com
305-490-5911
http://www.blinkpr.com
# # #