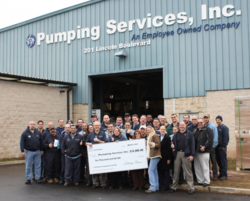 I've never won anything like this before, it's very exciting!
Middlsex, NJ (PRWEB) October 02, 2012
A little over two years ago, Pumping Services, Inc. of Middlesex signed up with Consumer Energy Solutions to save money by getting their energy from Liberty Power and they made good savings for themselves.
Then to welcome in the new year, Pumping Services, an employee owned company, learned that their energy contract has paid off for $10,000! As the local winner of a nationwide Liberty Power sweepstakes they received a visit from a CES representative to deliver the big check in person.
"I've never won anything like this before, it's very exciting!" said Henry Smith, president. "I plan on using part of the money to throw a party for our employees."
"We're probably just as happy for them as they are," said Patrick Clouden, CEO of CES. "Every one of our customers is someone who wants to save some money on energy so they can improve their quality of life. The employees of Pumping Services were ahead even before they won, we wish them all the best."
Pumping Services, Inc. has been located in Middlesex since 1970. All their employees will benefit from the 10,000 dollars.
Liberty Power is a national provider of energy and their goal is to help consumers lower their utility costs. The sweepstakes was only open to customers who signed up though one of Liberty Power's channel partners such as CES.