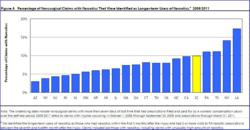 In most cases, doctors in South Carolina were not following recommended treatment guidelines for monitoring injured workers who were longer-term users of narcotics,
CAMBRIDGE, MA (PRWEB) October 02, 2012
With opioid misuse a top public health problem in the United States, a new report by the Workers Compensation Research Institute (WCRI) showed that few physicians in South Carolina were following recommended medical treatment guidelines to prevent it.
This report, Longer-Term Use of Opioids, examined longer-term use of narcotics (or opioids) in 21 states and how often recommended medical treatment guidelines for monitoring injured workers with longer-term use were followed by physicians. The monitoring includes services, such as drug testing and psychological evaluations, which can help prevent opioid misuse by injured workers that could result in overdose deaths, addiction, and diversion. However, the study found relatively low compliance with the medical treatment guidelines in most states.
"This study addressed a very serious issue in South Carolina: if a worker and doctor decided that narcotics should be taken, there was a 1 in 10 chance that the worker would still be taking narcotics 3 to 6 months later – a 25 percent higher risk than in the median state. Moreover, in most cases, doctors were not following recommended treatment guidelines for monitoring injured workers who were longer-term users of narcotics," said Dr. Richard Victor, WCRI's Executive Director.
Among the study's findings:

More frequent and longer-term use of narcotics may lead to addiction and increased disability or work loss. Nearly 1 in 10 injured workers in South Carolina who started narcotics were still using them 3-6 months later.
Drug testing was used less frequently than recommended by medical treatment guidelines for chronic opioid management, between 29 and 33 percent of cases with longer-term use of narcotics over the study period.
Use of psychological evaluation was low, between 9 and 12 percent over the study period from 2007/2009 to 2009/2011.
The study is based on nearly 300,000 workers compensation claims and 1.1 million prescriptions associated with those claims from 21 states. The claims represent injuries arising from October 1, 2006 to September 30, 2009, with prescriptions filled up to March 31, 2011. The underlying data reflect an average of 24 months of experience. The states included in this study are: Arkansas, Arizona, California, Connecticut, Georgia, Illinois, Indiana, Iowa, Louisiana, Massachusetts, Michigan, Minnesota, New Jersey, New York, North Carolina, Pennsylvania, South Carolina, Tennessee, Texas, Virginia, and Wisconsin.
For more information about this study or to purchase a copy, click on the following link: http://www.wcrinet.org/result/longer-term_use_of_opioids_result.html.
ABOUT WCRI:
The Workers Compensation Research Institute (WCRI) is an independent, not-for-profit research organization based in Cambridge, MA. Since 1983, WCRI has been a catalyst for significant improvements in workers' compensation systems around the world with its objective, credible, and high-quality research. WCRI's members include employers; insurers; governmental entities; managed care companies; health care providers; insurance regulators; state labor organizations; and state administrative agencies in the U.S., Canada, Australia and New Zealand.