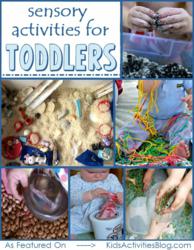 Edible sensory bins are easy to make for the little explorer.
Dallas, TX (PRWEB) October 13, 2012
Kids Activities Blog has conducted research among Mom bloggers to come up with a list of the best sensory activities for one year olds this fall.
Sensory activities for one year olds is really about exploration. Among the most stimulating and longest engagement activities are noise making and touching activities. Edible sensory bins made out of used decaffinated coffee grounds or cloud dough, made out of cornstarch and oil, has babies exploring for a long time.
Additional activities for one year olds include edible colored spaghetti. Add a touch of oil so it does not clump and watch them play and taste to their hearts content.
A lot of featured activities on Kids Activities Blog are both baby and toddler approved and edible ones. Among the non-edible and one of the most simplest activities for 1 year olds is making a sensory bin out of scrunchies. Going to the store is not necessary when making this easy activity at home. Simply wash old scunchies and place them in a bin in front of the baby. Enjoy him or her explore the different textures.
These sensory activities for one year olds are just a small example the vast list featured on Kids Activities Blog. Before playing with babies, come check out the complete research conducted by Kids Activities Blog about the latest fun activities for babies and toddlers.
About Kids Activities Blog
Kids Activities Blog is a website created by two moms (who collectively have 9 children), Rachel Miller and Holly Homer from June Cleaver Nirvana. It is their daily goal to inspire parents and teachers to play with kids. This interactive website publishes simple things to do with kids twice a day. Kids Activities Blog is a great tool for moms and teachers to find kid-friendly activities that create memories and sneak learning into the fun.