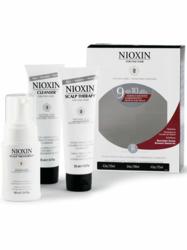 (PRWEB UK) 2 October 2012
Hairtrade.com, the UK's leading retailer of hair extensions, hair care and beauty products has announced that it has added a huge range of Nioxin hair care products with up to 20% off the original RRP.
The promotion comes at a time where customers are beginning to cut back on spending on the run up to Christmas whilst also buying for others.
Nioxin hair care products are formulated to be Skincare for the scalp. It is established by Nioxin Research Laboratories, whose world-renowned team of researchers has developed one of the most advanced systems to improve the appearance of thinning hair.
The range consists of cleansers, treatments and masques, as well as starter kits, each designed to help thinning hair. The three parts of each Nioxin system – cleanse, optimize, treat – work together to help nourish the scalp and give thicker, denser-looking hair.
Nioxin cleansers help to remove follicle-clogging sebum, fatty acids and environmental residues from the scalp skin and hair while the conditioners help to provide hair resilience and control moisture balance. The third part, Scalp Treatments, contain antioxidants and botanicals that help to thicken each hair strand and refresh the scalp.
Keven Kou, Managing Director at Hairtrade.com commented, "We wanted to introduce some sale items to our customers as a special end of summer promotion to kick start the run up to Christmas. At this time of year people often cut back on spending, so we have discounted some great products by 20% as a thank you to our customers."
He continued, "People are also beginning to stock up on Christmas gifts, and this way our customers are getting extremely great value for money."
With a variety of systems to choose from, Nioxin caters for every type of hair, from noticeably thinning, to normal – thin looking hair, as well as natural or chemically treated hair, and fine to medium and coarse hair.
Nioxin hair care products are available with up to 20% discount until 28th October 2012 and until stocks last, from Hairtrade.com
About I&K International Limited:
I&K International Limited was established in 2005 and is now one of the leading online hair care, hair extensions and beauty products distributor and retailer across the UK and Europe. Hairtrade provides a wide range of hair extension products, hair care and hair electrical brands.
Hairtrade provide a wide range of 100% human hair extensions (http://www.hairtrade.com/ ) mainly, human hair weaves, I&K clip in Hair Extensions and pre-bonded hair and European hair extensions. Among its top brands are I&K 100% Human Hair and Remy Hair, Top Model and Jessica Simpson hair. In addition to its 100% human hair extensions the company also provides synthetic hair extensions, wigs, hairpieces, hair extensions accessories and tools, as well as an extensive range of hair care products from brands such as Tigi, Loreal, Schwarzkopf, Goldwell, Matix, Fudge, Keune, Sexy Hair and many more.