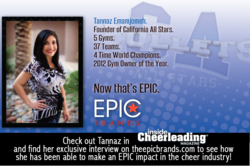 Elkridge, MD (PRWEB) October 01, 2012
Leading Cheer and Dance event producers, the EPIC Brands, is featuring successful gym owners and coaches this season in Inside Cheerleading and Cheer Biz News magazines as well as posting interviews on EPIC Brands social media pages. We feel there are a multitude of "EPIC" cheer programs in the United States, thanks to the hard work and determination of people that have a genuine love for the sport of competitive cheerleading, and the goal is to recognize these programs in addition to giving others insight and advice from those that have experienced success in this industry. EPIC Brands has recently had the opportunity to speak with Tannaz Emamjomeh, owner of California All Stars, to gain some insight on how she and her program came to be of the most recognized names in the spirit industry.
Tannaz began cheerleading in high school and grew quickly into a skilled flyer, moving on to cheer for the widely respected University of Louisville Coed squad and making the cast of the original cheerleading hit flick "Bring It On". Now in its 12th year, California All Stars has grown tremendously, with 37 teams in 5 locations (4 in California, and 1 in Las Vegas) and 14 medals from the Cheerleading Worlds, 4 of which are gold. Tannaz was awarded the 2012 USASF Gym Owner of the Year Award, and was recently recognized by Cheer Biz News magazine as one of the Top 35 Most Influential People in the Cheerleading Industry Under 35.
Check out Tannaz Emamjomeh in the October 2012 issue of Inside Cheerleading Magazine and read her full interview on the Epic Brands website! For more information about California All Stars, please visit http://www.californiaallstars.com
EPIC Brands was established in 2011 from the merger between ACDA (founded in 1991) and Spirit Unlimited (founded in 1999) and remains committed to producing events and camps that are among the best in the industry, while continuing to value and maintain superior customer service. EPIC is pleased to be a founding member of the Spirit Industries Trade Association (SITA), the Nations Leading Cheer Companies (NLCC), and the US Finals. EPIC Brands is also a member of IEP along with USASF and gives multiple Worlds bids each season.
For more information about EPIC Brands and to check out our 2012-2013 season schedule, please visit http://www.theepicbrands.com or call us at 1-877-322-2310.