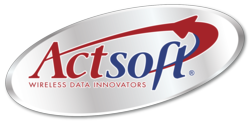 Tampa, FL (PRWEB) October 03, 2012
Actsoft, Inc. a leading provider of GPS tracking and mobile resource management (MRM) software announced that it has won a 5-year contract (#GS-35F-0599Y) to provide its software services to Federal Agencies under the General Services Administration (GSA). This award is the result of a nearly year-long process.
Under the terms of the agreement, Actsoft will provide its software services to federal agencies nationwide and is listed under IT Schedule 70, a long-term contract issued by the federal government to a commercial technology vendor. This award significantly boosts Actsoft's value and position in the marketplace, deeming its products competitively priced and compliant with all applicable laws and regulations.
Now, working in tandem with wireless carrier partners, Actsoft can sell its products directly to government agencies, bypassing the rigorous request for proposal (RFP) bidding process commonly required by federal agencies and making them one of the few fleet management software companies listed on the GSA Schedule.
"This award positions Actsoft as a preferred vendor for federal agencies and is a significant milestone for us; it solidifies our stance as a leader in the marketplace. We are a software development company with a number of different applications. We can now help federal agencies save money and operate with greater efficiency when they purchase our robust portfolio of products and services," stated Kevin Thigpen, Actsoft Executive Vice President.
About Actsoft, Inc.
Actsoft, Inc. is a leading developer of GPS based mobile applications for today's business with workers on the go. Their products include Comet EZ, Comet Tracker, Comet Mobile Worker, Advanced Wireless Forms, and DashTrac. Actsoft provides enterprise solutions through all major wireless carriers to thousands of companies in the United States, Canada, and many locations throughout the world. Founded in 1996, Actsoft, Inc. is headquartered in Tampa, Florida. Actsoft was the recipient of Frost & Sullivan 2009 Customer Service Excellence Award and most recently voted one of Tampa Bay's Top Workplaces. For more information, visit http://www.actsoft.com.