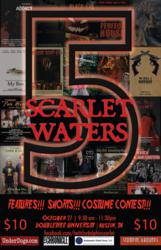 When: Fri Oct 26 and Sat Oct 27
Where: 10/26: Stompin Grounds Lounge (3801 South Congress, Austin, TX)
10/27: Doubletree University (6505 I35 N, Austin, TX) Cost: 10/26: Free
10/27: $10
Austin, TX (PRWEB) October 03, 2012
In the past five years, Twitchy Dolphin Flix has produced eight feature films and dozens of shorts. They've won dozens of awards and played in film festivals world wide. To celebrate, Twitchy Dolphin is hosting a free concert at Stompin Grounds Lounge on South Congress. Artists that have had music appear in the Twitchy films will each play a set. Jon English, Clif Haley, Brandon Whitlan and Lauren Hayes will all make an appearance on stage. Fans, film buffs and former Twitchy actors are welcome to attend.
The next day, Twitchy Dolphin will host the 5th annual Scarlet Waters horror film showcase. Films from all over the world will have their Austin premieres, including several new Twitchy Dolphin shorts that have become a staple of the event. Filmmakers from LA, Canada and the East coast will be on hand. Highlighting the event will be the Texas premiere of Twitchy Dolphin's religiously themed with horror feature Abram's Hand. A throw back to 80's slasher flicks, multi-award winning Canadian film Black Eve will make its Texas debut . Pennsylvania film Laughter will make it's Austin premiere as will the the NY based film The Perfect House. All in all, 16 films are programmed for the day long event. Admission is $10.
Both events will be hosted by Twitchy actress Lacey Hernandez who's appeared in Dear Boss Ripper, which makes its World Premiere on the 27th and the upcoming feature 3 References.
Twitchy Dolphin Flix president James Christopher and several cast members are available for any and all press availability. Contact James Christopher: james(dot)christopher(at)twitchydolphin(dot)com or (512)569-3469