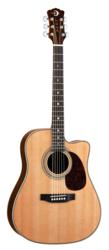 "Luna Guitars chose Nubone nut and saddles because Luna customers appreciate attention to detail and the difference that a quality brand such as Nubone can make in an instrument"
says Yvonne de Villiers
Creative Visionary-Luna Guitars
DELTA, B.C. (PRWEB) October 03, 2012
Graph Tech Guitar Labs, the world's largest guitar nut and saddle manufacturer is pleased to announce that Luna Guitars® has chosen NuBone® nuts and saddles for their Oracle, Americana, Henna, Trinity and Muse product series.
Luna Guitars' Mission is to craft fine stringed instruments with artistic sensibility that are comfortable, affordable, and inspire people of all ages and walks of life on their musical journey. http://www.lunaguitars.com/index.php. Yvonne de Villiers is an accomplished stained-glass artist who envisioned Luna Guitars. Yvonne's inspiration for a line of guitars designed to maximize playing comfort came from her mother, Cuban-born Hilda Williers, an electric bass player for more than 40 years.
"Luna Guitars chose Nubone nut and saddles because Luna customers appreciate attention to detail and the difference that a quality brand such as Nubone can make in an instrument" says Yvonne de Villiers
Graph Tech's vision for Nubone was to produce an affordable alternative to plastic nuts. Plastic nuts and saddles vary greatly and many are cheaply made, too soft, too brittle, or hollow. These inconsistencies can kill sustain and tone.
NuBone® is a derivative of Graph Tech's proprietary TUSQ® material and it offers very similar tonal characteristics to the highly esteemed TUSQ®. NuBone® doesn't damp string vibration like plastic; instead, it transfers the optimum frequencies to the guitar allowing for more volume, more tone, and more harmonics. Also, NuBone® is beautiful to work with because it is consistent throughout, files and sands easily, and won't melt on a belt sander.
NuBone® is made to close tolerances under high heat and pressure which contributes to its hardness, workability, exotic appearance, and, most importantly, guitar performance. It is odorless when sanded and harder than plastic which means it lasts and performs longer. Listening to your guitar equipped with NuBone® is like hearing your guitar for the first time again! Great tone at a great price that's Nubone®
About Graph Tech Guitar Labs
Founded in 1983 by President Dave Dunwoodie, Graph Tech Guitar Labs manufactures more guitar nuts and saddles than any other company in the world. Focused on innovations to improve guitar tone and vibration for optimal performance, Graph Tech is the maker of TUSQ® and Black TUSQ® XL man-made ivory, String Saver™ saddles, String Saver Classics™ saddles, NuBone®, ResoMax™ Harmonic Bridge System and ghost® modular pickup systems. The world's leading retailers, builders, and guitar manufacturers choose Graph Tech products including: Carvin, Fender, Gibson, Godin, Hagstrom, Ibanez, Jay Turser, Lag, Larrivee, Martin Guitars, Ovation, Peavey, Samick, Schecter, Tacoma, Taylor Guitars, and Yamaha Custom Shop. For more information, visit http://www.graphtech.com or call 1-604-940-5353.