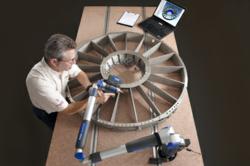 Cincinnati, Ohio (PRWEB) October 02, 2012
3D Engineering Solutions recently announced the United States Department of State Directorate of Defense Trade Controls approved the company's International Traffic in Arms Regulations (ITAR) registration. ITAR registration means 3D Engineering is now able to provide its services for government-related projects, including reverse engineering of tooling and equipment for Department of Defense articles such as weaponry and aircraft.
3D Engineering Solutions' ITAR certification comes at a time when Diminishing Manufacturing Sources and Material Shortages (DMSMS) is on the rise. "There are many reasons why various existing defense articles can't be fixed or reproduced easily. So the government and other companies can use our services to help with CAD models, drawings and reverse engineering," said 3D Engineering Solutions Vice President of Operations Rob Glassburn.
The goal of ITAR is to safeguard sensitive defense-related information regarding manufacturing, technology and data. Glassburn said, "The ITAR registration means we as a company are visible to government entities and companies working directly with our government to supply our advanced touchless data collection services, engineering expertise and reverse engineering services in the pursuit of defense related projects."
About 3D Engineering Solutions:
3D Engineering Solutions is registered with the State of Ohio for Professional Engineering and is ISO 17025 certified for third party inspection. In their seventh year of operation, the company maintains a state-of-the-art, climate controlled metrology lab, servicing OEM needs for FAI / PPAP inspection, 3D laser scanning, data collection, 3D CAD modeling, and reverse engineering services. Customers rely on 3D Engineering Solutions to design process tooling and fixtures for the automotive, industrial, green energy, nuclear and aerospace industries, using engineering tools such as Siemens advanced NX7.5 Mach 3 CAD platform. Leading edge point cloud software, InnovMetrics PolyWorks, allows a common software platform for collecting data across all of Faro laser-based data collection platforms. 3D Engineering Solutions brings more than 100 years of collective experience to every engineering project. For more information about reverse engineering or 3D CAD modeling, or for general information about 3D Engineering Solutions, call 513-771-7710 or visit the company's website: http://www.3D-engineering.net.