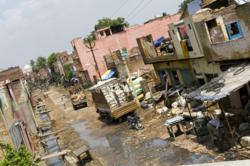 "Cities should offer social, economic and political opportunities for citizens to reach their full potential. WACAP is meant as a contribution, with our partners, to facilitate this process". -- UNDP Administrator Helen Clark
Geneva (PRWEB) October 03, 2012
On World Habitat Day, the United Nations Development Programme has announced that the host city of WACAP8 will be Dublin, Ireland. The WACAP8 forum will take place on 20-21 February 2013.
The World Alliance of Cities Against Poverty (WACAP) was first launched in 1996 as a global network of municipal governments. Its ambition is to address the challenges of urbanization, to facilitate south-south and triangular cooperation, and to share knowledge of best practices. Each Forum attracts senior political leadership from cities as well as policy and technical specialists with designated authority.
Naoise Ó Muirí, Lord Mayor of Dublin, said his city is proud to host WACAP8 and is looking forward to receiving the delegates in February.
"The International Forum and Expo will bring together key people to build solutions for the Millennium Development Goals and to address the global challenge of urban poverty," he said. "Through a diverse range of speakers and sessions, the Forum will specifically examine ways in which technology can make our cities 'Smart, Safe and Sustainable".
UNDP Administrator Helen Clark said more people now live in cities than in rural areas. The Organization of Economic Cooperation and Development estimates that by 2050, 70 per cent of the world population will live in cities.
"Cities should offer social, economic and political opportunities for citizens to reach their full potential. WACAP is meant as a contribution, with our partners, to facilitate this process".
UN WOMEN Executive Director Michelle Bachelet said that no city could be considered safe, smart or sustainable unless half of its population – women and girls—could enjoy public spaces without the fear of violence.
"Working with municipal leaders, WACAP8 can help ensure that women, youth and children are safe to fully enjoy the many opportunities that cities offer".
WACAP is led by UNDP and a 10-member executive steering committee consisting of the cities of Florence (Italy), Malaga (Spain), Huy (Belgium), Monaco, Nantes (France), Rotterdam (Netherlands) and Dublin (Ireland), in addition to UNDP, UNITAR and UN Women. Past Forums have taken place in Lyon, France (1998); Geneva, Switzerland (2000); Huy, Belgium (2002); Rome, Italy (2004); Valencia, Spain (2006); Athens, Greece (2008) and Rotterdam, Netherlands (2010). This year's forum in Dublin will coincide with the country's hosting of the presidency of the European Union.
More information: http://www.wacapnetwork.org; http://www.dublin2013.ie; and on Facebook at http://www.facebook.com/wacapnetwork.
Contact: Adam Rogers, UNDP Geneva, tel: (41 22) 917 8541; e-mail: adam.rogers (at) undp (dot) org