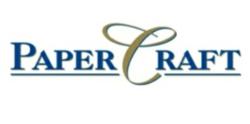 It was very important to PaperCraft that we expand our services to provide a line of executive gifts. It was about serving our clientele
Fairfax, VA (PRWEB) October 01, 2012
PaperCraft, Inc., the prestigious fine printing firm, has announced a new line of promotional products and executive gifts for their corporate clientele.
Their extensive online catalogue includes nearly 850,000 promotional products. In addition to the variety of Ad Specialty promotional products, they also carry a line of high-end executive and client gifts to promote one-on-one relationships with clients, employees, and anyone else a business might like to thank.
"It was very important to PaperCraft that we expand our services to provide a line of executive gifts. It was about serving our clientele," says CEO Catherine Gibson. "D.C law firms don't want to give coffee mugs to their top clients for the holidays. Image and brand are very important to our clients, and to us. I don't think there is a better corporate gift selection anywhere else."
In addition, the Ad Specialty and Corporate Gift lines have a variety of categories for any budget or interest group, as PaperCraft counts numerous non-profit organizations amongst their clientele. PaperCraft's National Sales Director, Lang Gibson, says, "We are seeing a rise in popularity among green-friendly items, apparel and the always-popular "under $5.00" category. But there's also a trend towards items that people will actually use, like travel items, desk accessories or USB sticks. The budget is more effectively spent when your brand is front and center over a period of time." Ad Specialty and Corporate Gift items can be customized for tradeshows, conferences, retreat kits, holiday events, or sponsored community events.
The PaperCraft's commitment is to have the best customer experience possible, and to have a standard of excellence in providing services or products to their clients. This mission has been carried forward to their new promotional line.
About PaperCraft
PaperCraft is a leading fine printing firm, offering branding services, signage and paper supplies to corporate, government and non-profit clients in the Washington, D.C., area and beyond. To find out more about their products and services, please contact 703.978.6500, promo(at)papercraftinc(dot)com or visit us online at http://www.papercraftinc.com.