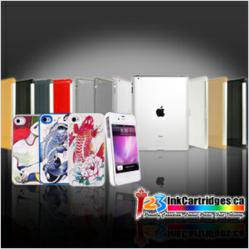 Montreal, Quebec (PRWEB) October 25, 2012
The 123inkcartridges.ca company has announced the incorporation of the iPhone 5 cases to its product line. This introduction bares good news from the fact that; the consumers will be able to have the same discount rates as exerted on other products. The company recently began to make attempts to increase its product capacity and the iPhone 5 cases is its most recent inclusions in its expansion plans.
The 123inkcartridges.ca online company continues to be the top provider for a number of products for instance computer accessories. The customers who visit this company's stores are required to fill order forms whenever the need for making orders comes to play. These orders are then sent via mail to the various shopping outlets from where the individual can go and collect their order. The company has experienced increased growth and is exited to include the iPhone 5 cases to its product expansion plans.
The 123inkcartridges.ca company based in Montreal also has storage facilities which are used to incorporate new orders as soon as they are ordered. The company is also aimed to provide consumer satisfaction as well as their expectations. This has been supported by the fact that; the company staff plays a role towards ensuring that the consumers are comfortable while shopping at the company. The company has also worked to ensure that it provides this product to the consumer at the lowest price possible. The inclusion of the iPhone 5 cases into the company's product pool was in an attempt to ensure that this product is available to the consumers as well as cater for the high demand for the product.
The product can be acquired from http://www.123inkcartridges.ca/accessories/iPhone-5-Cases.html. This site will also enable the consumer to learn more about the products that the company offers as well as make orders. This service is fully supported by the company staffs who work on a full time basis. This is to ensure that the consumers do not encounter any difficulties while using this service.
What you need to know about the 123inkcarridge.ca
The initial purpose for the establishment of the firm was to be able to supply the consumers with printer ink and toner cartridges at reliable prices. This consequently led to the growth of the company which then rose to the top of the supply chain. This is associated to the increased demand for the products by the consumers. The 123inkcartridges.ca has a number of storage facilities located in Canada which are used to store products as well as meet the increased demand for these products.