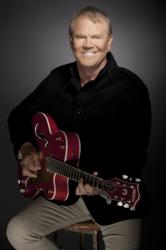 Cincinnati, OH (PRWEB) October 01, 2012
Country music legend Glen Campbell will perform live on Sunday, November 11 with special guest Victoria Ghost at the Taft Theatre.
Reserved tickets, $57.50, $47.50, $37.50 and $27.50 (plus applicable fees), go on sale this Friday, October 5 at 10:00 AM at http://www.ticketmaster.com, the Taft Theatre Box Office and all Ticketmaster outlets including select Kroger stores. Charge by phone at 1.800.745.3000.
Becoming a bonafide living legend isn't as easy as Glen Campbell makes it look. First, you have to have a solid foundation of talent on which to build — like being one of the hottest guitar players in the world. Then you have to record songs that will stand the test of time — standards such as "By The Time I Get To Phoenix" and "Wichita Lineman." And of course, to be a "living" legend, you need to survive the harsh reality of a celebrity lifestyle.
It certainly doesn't hurt to have a witty, bantering stage style that draws fans like college students to Daytona Beach, or a hit television show viewed by 50 million people every week for three years. When you put it all together, the result is a career that spans fifty-plus years and fans that cross generational and international lines. In other words: Glen Campbell.
Glen's most recent album, Ghost On the Canvas, was released in the Fall of 2011 on Sundog Records. The song choices trace the arc of Glen's 75 year colorful history, in the forms of allusions so some of his greatest hits and life experiences. Glen has said it will be his final album.
During his 45 years in show business, Glen has released more than 70 albums. He has sold 45 million records and racked up 12 RIAA Gold albums, 4 Platinum albums and 1 Double-Platinum album. Of his 75 trips up the charts, 27 landed in the Top 10.
Sadly, in summer of 2011, Glen was diagnosed with Alzheimer's Disease. A public disclosure was made. So far it has had little effect on his touring schedule and he is doing quite well, however, he believes his current tour to be his last.