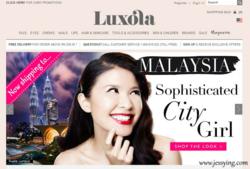 Luxola is built by women for women. We love looking and feeling beautiful as much as the next girl and wanted to make it easy to discover and purchase the latest and greatest beauty products.
Singapore (PRWEB) October 02, 2012
There was a time when women in Malaysia who were addicted to buying luxury makeup and beauty products were at a real disadvantage. Many websites sell excellent beauty products but don't deliver them to certain regions. Furthermore, most Luxola beauty brands were not available within Malaysia. Now, Luxola.com is now shipping these products to Malaysia, Thailand, Indonesia and Brunei! Customers in these four countries can now log on the site to purchase their favorite brands and prices for the products will also be available in the local currency.
Since some famous brand products are sold exclusively on Luxola, women who formerly could not find luxury cosmetic brands in Malaysia, Thailand, Indonesia or Brunei will be able to find cult favorite beauty items – some even cheaper than the normal retail price.
Luxola will focus on building its business across Southeast Asia with its latest funding of $590,000 from WaveMaker Labs, to reach women in Malaysia, Thailand, Indonesia, and Brunei. Based in Singapore, Luxola is the ultimate cosmetic and beauty online retailer. Luxola.com can be described as an e-commerce solution, as it strives to make shopping with them not only fun but convenient as well. Luxola has handpicked the most sought-after international best buy cosmetics like Deborah Lippmann, Mario Badescu, and Korres.
They cater to shoppers that are very selective about the kind of international beauty products they will use. They are the first to offer a 100% authenticity of every single cosmetic brand they work with; ensuring customers are receiving superior products each and every time they order. They use the DHL method for shipping all of their beauty brands directly from Singapore so receiving your order is never a hassle! The Luxola team have tested and sampled hundreds of products currently available and offer the highest quality and top performing beauty products that one will ever find. In addition, Luxola constantly updates women with helpful tips, style secrets and trends from top professionals in the beauty business.
Luxola wants to keep their customers happy so they offer free, next business day delivery on any item a shopper may see on the site in Singapore and a two to three business day delivery overseas, so that every woman can explore Luxola and find the right product along with free samples to make them feel beautiful. The site offers a variety of products for the lips, cheeks, eyes, and skin, as well as tools and accessories for men, women and children.
About Luxola
Ever since founder and CEO Alexis Horowitz-Burdick launched Luxola.com in Singapore, the company has exploded onto the cosmetic e-commerce scene. Luxola has recently announced its agenda to expand its business across Southeast Asia with its latest funding from WaveLabs. Luxola doesn't own the top selling beauty products and works as a partner with popular brands of cosmetics and promotes the products online. For more information, please visit http://www.luxola.com